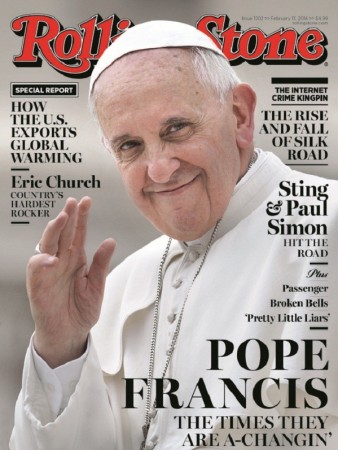 Pope Francis is fast turning into a pop icon. The news is official now as the head of Catholic church will be featured alongside the icons of American popular culture, on the Rolling Stone magazine.
The Rolling Stone cover on Pope Francis will hit the newsstands on 13 February, the coming Friday. However, Mark Binelli's 8,000-word story only solidifies the increasing fan-base of Pope Benedict XVI.
Adapting the title from a Bob Dylan song, the Rolling Stone story "Pope Francis: The Times They are A-Changin' investigates what makes Pope Francis different from other vatican pontiffs.
The Argentine-born pope, who took office in March last year, has been gaining acceptance the world over.
He also has featured as Time magazine's 'Person of the Year'. The article in Time stated: "Pope Francis, The People's Pope - He took the name of a humble saint and then called for a church of healing. The first non-European pope in 1,200 years is poised to transform a place that measures change by the century."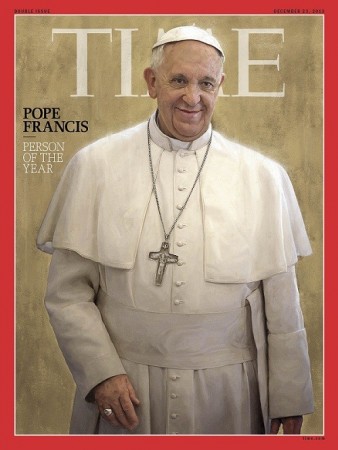 Vanity Fair Italia also named him 'Man of the Year'. The cover story on Pope Francis noted: "His first one hundred days have already placed him in the category of world leaders who make history. But the revolution continues."
The New Yorker also put him on the cover following his nomination as Time's 'Person of the Year'.
The New Yorker story on Pope Francis observed: "'Who am I to judge?'With those five words, spoken in late July in reply to a reporter's question about the status of gay priests in the Church, Pope Francis stepped away from the disapproving tone, the explicit moralizing typical of Popes and bishops. This gesture of openness, which startled the Catholic world, would prove not to be an isolated event. In a series of interviews and speeches in the first few months after his election, in March, the Pope unilaterally declared a kind of truce in the culture wars that have divided the Vatican and much of the world."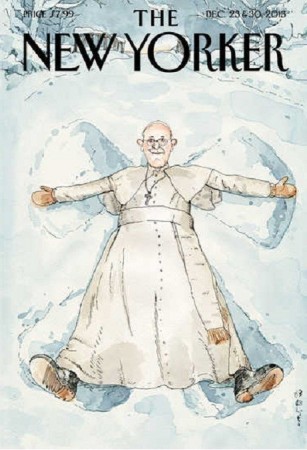 The head of Vatican and Catholic church also has made it on the cover of The Advocate, an LGBT-focused magazine, that featured him as 'Person of the Year' for his landmark statement: "If someone is gay and seeks the Lord with good will, who am I to judge?"