Cardinal Jorge Mario Bergoglio of Argentina has been elected the new Pope and he has chosen the Papal name Pope Francis I.
White smoke poured from the chimney of the Sistine Chapel on Wednesday, the second day of the conclave, and the bells of St. Peter's Basilica rung, signalling that a new pope has been chosen.
Pontifex, the official twitter account of the Papacy announced:"HABEMUS PAPAM FRANCISCUM".
Pope Francis I appeared on the balcony of St Peter's Basilica to greet thousands of people eagerly waiting for the announcement of the new Pope.
"Brothers and sisters, good evening" were his first words. He thanked the crowd at St Peter's Square for welcoming him before praying for his predecessor, Pope Benedict XVI, who resigned last month. He also asked the people to pray for him so that he (Benedict XVI) blesses him.
The 76-year-old new Pope said that the world should move on the "path of love and fraternity" and asked the people to pray for him before restricting to the chapel with the words: "Good night and I wish you a peaceful rest."
Pope Francis I is the first pope from the Americas, and the first non European Pope in over a thousand years.
The result from the conclave came sooner than expected as there were many frontrunners before the cardinals around the world begun balloting on Tuesday. The new Pope was elected after only five ballots, on the second day of the conclave.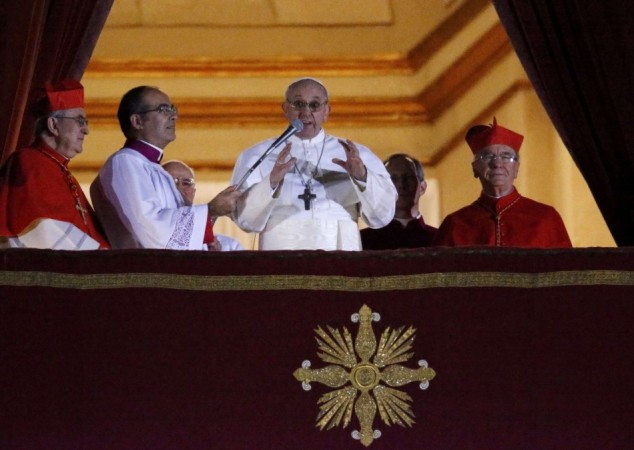 A total of 115 cardinals from around the world gathered at the Sistine Chapel on Tuesday to elect a new pope to lead the 1.2 billion member Catholic Church after Pope Benedict XVI announced his resignation last month.