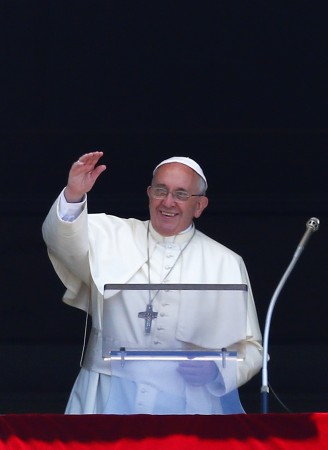 Pope Francis on Monday begged for forgiveness before the Catholics sexually abused by members of the clergy and vowed to hold bishops accountable for their handling of pedophile priests – in an action that goes much further than any of his predecessors ever did.
The comments came in his first and historic meeting held with six clerical sex abuse survivors in Vatican.
The pontiff began the day by offering an apology to the six people including two Irish, two British and two German – during a meeting in the Domus Santa Marta, his Vatican residence. He spent the rest of his morning Monday listening to their accounts, one after another.
Victims of abuse and their advocates have demanded that higher officials of the church be made answerable for the rape and molestation of children that has been going on for decades – a precedence that has rocked the fundamentals of the church and dismayed its 1.2 billion members worldwide.
"Before God and his people, I express my sorrow for the sins and grave crimes of clerical sexual abuse committed against you. And I humbly ask forgiveness," Pope Francis said in a never-before-heard emotional speech.
"I beg your forgiveness, too, for the sins of omission on the part of church leaders who did not respond adequately to reports of abuse made by family members, as well as by abuse victims themselves," the pope said. "This led to even greater suffering on the part of those who were abused, and it endangered other minors who were at risk."
The Pope, however, didn't mention if the bishops and other prelates who kept transferring child-molesting priests from one parish to another or those who didn't inform the police about the same, would be demoted or fired.
Stressing that those decades-long abuse scandals had a "toxic effect on faith and hope in God," the Pope delivering his homily in his native Spanish said: "All bishops must carry out their pastoral ministry with utmost care in order to help foster the protection of minors, and they will be held accountable."
Although most of the child abuse advocacy groups have said that the pope's meeting with the three men and three women was a positive step, there were others who expressed their skepticism.
"We are glad the pope promises to 'hold accountable' Catholic officials who conceal abuse," The Director of US-based 'Survivors Network of Those Abused by Priests', David Clohessy said in a statement, Dallas News reports. "But he hasn't done it yet, not in Rome, nor in Buenos Aires. Saying and doing are different things. The first is easy, the second is hard."