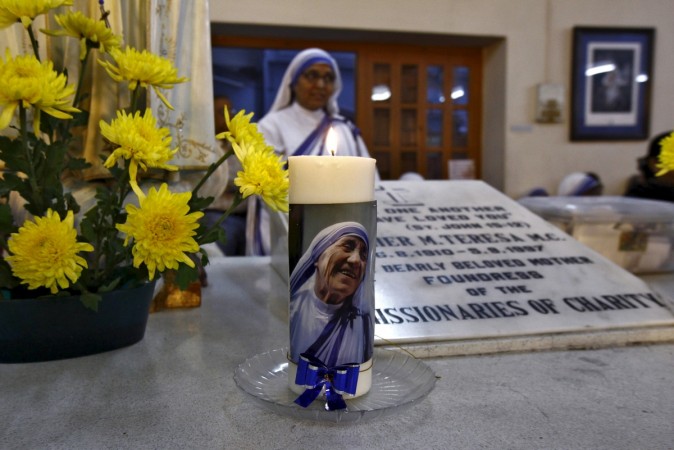 Update, 4:43 p.m.: The canonisation of Mother Teresa will take place Sept. 4, Pope Francis announced Tuesday. The canonisation ceremony will take place in Rome, according to ANI.
Mother Teresa to be canonized (elevation to sainthood) on 4th September 2016 in Rome.

— ANI (@ANI_news) March 15, 2016
Original Story:
Pope Francis of the Roman Catholic Church in Vatican City Tuesday approved sainthood for Mother Teresa. The decision was taken at a meeting of the Vatican panel comprising senior religious leaders.
At the meeting Tuesday, Pope Francis signed a decree to approve the decision to give Mother Teresa the title of a saint, Agence France-Presse reported. He will also announce the date and venue for the canonisation.
Pope Francis had in December recognised a second miracle attributed to the founder of Missionaries of Charity in Calcutta, now known as Kolkata, and announced that she will be canonised as a saint this year, the Holy Year of Mercy.
The Congregation for the Causes of the Saints had Dec. 15 approved the second miracle, involving a 42-year-old man who was healed from "multiple brain abscesses with obstructive hydrocephalus" in 2008 after his family and friends had prayed to Mother Teresa.
Mother Teresa was beatified after the first miracle happened in 2003 in India, taking the fir
The canonisation of Mother Teresa is likely to take place Sept. 4, a day before Teresa's death in 1997. She was born on Aug. 26, 1910, in Skopje, now the capital of the Republic of Macedonia, but spent most of her life in Kolkata. She won the Nobel Peace Prize in 1979.
#BREAKING Pope Francis approves Mother Teresa elevation to sainthood pic.twitter.com/fRIRLsFa3T

— AFP news agency (@AFP) March 15, 2016