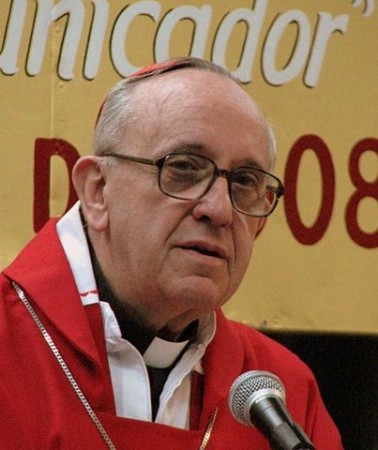 After garnering a lot of admiration for his empathy towards the man will bubbles all over his body, Pope Francis has now been labeled as the "Coolest Pope Ever" by social media users.
The tag comes after a recent revelation by Pope where he admitted that he once worked as a bouncer at a night club in Buenos Aires, reported USA Today. The statement has grabbed the attention of social media and thus increased the popularity of the Pope by ten folds.
"This guy's story just gets better & better... "Pope Francis' latest cool confession: He was a bouncer" tweeted a user.
"So Pope Francis used to be a nightclub bouncer in his native country of Argentina," added another.
Pope Francis is one of the most endearing religious leaders that the world has seen. He is popular not only among Christians but also people from other faiths, across various demographics.
Everything from him driving a used car instead of riding in the papal limousine to him chastising priests to give more upbeat sermons so that the congregation doesn't feel sleepy has contributed to his mass following.
He is known to have taken priests to task and has told them not be 'sourpusses' and to get their shoes muddy and get involved in the lives of their flock.
His latest comment has come amid rumours that he sneaks out of the Vatican at night to give alms to the homeless.
However, while Pope Francis might be called "cool," one must not forget that Pope Benedict XVI wasn't really the one to be left out. He was after all one of the most stylish leader of the worldwide catholic church. Pope Benedict XVI had a fan following not just due to his sermons but also his classy sense of style that won the hearts of many.
He was seen donning a variety of chic hats during various seasons and was often spotted wearing velvet lined hats in the winter. Flaunting his sporty side, Pope Benedict XVI even stunned onlookers when he wore a baseball hat and was seen taking a stroll in the garden of his summer home.
That's not all. In 2007, he was also awarded the title of "Accessorizer of the year," for his intricately designed papal habit. He was also seen sporting a pair of sunglasses and also got a custom made perfume from perfume designer Silvana Casoli, according to Beauty World News.
Hence, it now appears that the Vatican can boast about having the "coolest" as well as the "most stylish" Pope.