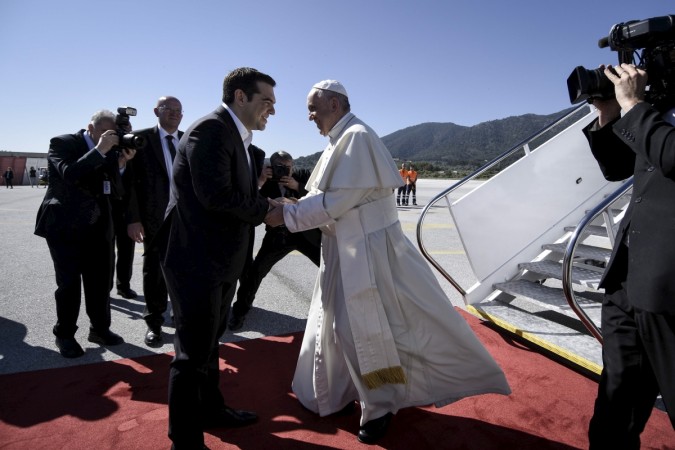 UPDATE 14:38 p.m. IST -- Pope Francis, who arrived on the Greek island of Lesbos to visit a refugee centre, has said he "wants to bring back refugees" from the visit, according to AFP.
The refugees who had arrived on the Greek island before the EU-Turkey deal took effect last month are among those likely to be chosen to move to the Vatican, an official told AFP.
Original story:
Pope Francis, head of the Roman Catholic Church, along with the spiritual leaders of Orthodox Christians and the Greek Orthodox Church, will visit a migrant camp in Greece's Lesbos island on Saturday. Hundreds of refugees have been detained on the island and are likely to be deported back to Turkey under the deal between European Union and Turkey signed last month.
The Vatican, however, said the Pope's visit was on humanitarian and religious ground and not meant as criticism against Europe over refugee deportations, according to the BBC.
Pope Francis, Patriarch Bartholomew I — who heads the Orthodox Christians — and Ieronymos II, the head of the Greek Orthodox Church, will visit the Moria camp where over 3,000 refugees have been held since the EU-Turkey deal came into effect.
Refugees, mostly from Syria, have been arriving on the Greek island from Turkey after perilous sea journeys on dinghies, in an attempt to gain asylum in a European nation. In 2015, over a million migrants entered Europe, with Greece being one of the main entryways.
However, the controversial deal struck last month allowed Europe to deport Syrian migrants arriving in Greece if their asylum applications failed, and then relocating one Syrian asylum seeker from Turkey to a European nation for every migrant deported. However, the deal was criticised as being illegal and for violating human rights.
The Pope's visit comes days after a few migrants attempted suicide at the camp on being threatened with deportation. While a Pakistani migrant had attempted suicide earlier this month, a Syrian man tried to kill himself on Friday but was stopped by authorities, according to the BBC.
While the visit by the religious heads is seen as a humanitarian message about the worst refugee crisis since World War II, it is also said to be a step towards rapprochement between the different branches of Christianity.
"The patriarch and the pope share radical ideas and both have the burning desire to move a step forward towards the rapprochement of the two Churches," Petros Vasiliadis, a Greek biblical scholar, told Reuters.
The three leaders are expected to give speeches and offer prayers during their visit to the Greek migrant camp.