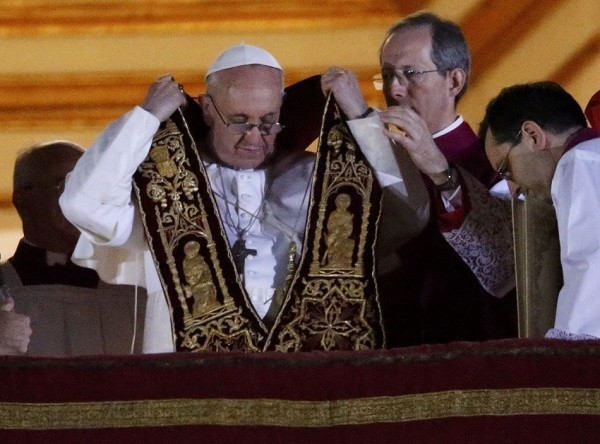 Cardinal Jorge Bergoglio of Argentina has been elected as the new Pope to succeed Benedict XVI, who resigned in February.
Tens of thousands of people had gathered in St. Peter's Square to watch the white smoke emerging from the chimney of the Sistine Chapel on Wednesday. As the smoke poured out, the bells of St. Peter's Basilica and churches across Rome rang loudly, signaling the election of a new Pope - Jorge Bergoglio.
Many shouted in joy "Habemus Papam" ( The Latin phrase "We have a pope") as the bells pealed. The crowds cheered after the name of the new pope was announced.
The 76-year-old newly-elected Pope became the 266th pontiff and will lead the world's 1.2 billion Catholics. He is the first Pope to have been elected from outside Europe in more than 1,000 years.
He selected Francis as his papal name, referring to Saint Francis of Assisi, who was an Italian Catholic friar and preacher. Saint Francis lived in the 13th century. He is a patron saint of animals and the environment, and identified himself with the poor.
Ten Facts about the new Pope Jorge Bergoglio
1. Jorge Mario Bergoglio was born on 17 December 1936, in Buenos Aires, Argentina. He is one of the five children born to Italian immigrants.
2. He earned his master's degree in chemistry at the University of Buenos Aires. He studied at the seminary in Villa Devoto. He taught literature and psychology at the Colegio de la Inmaculada in Santa Fe, and the Colegio del Salvador in Buenos Aires, according to extratv.com.
3. He served as the Archbishop of Buenos Aires since 1998 and was then elevated to Cardinal by Pope John Paul II in 2001.
4. He lived in a simple apartment with an older priest rather than living in the palace offered to him. He was also given a chauffeured limousine, but he opted to drive his own bus.
5. Jorge Mario Bergoglio is the first Jesuit to be elected as a Pope. A Jesuit is a member of the Society of Jesus, an order of the Catholic Church founded by St. Ignatius of Loyola. The new Pope was ordained for the Jesuits on 13 December 1969.
6. The new Pope chose Francis as his papal name. This is the first time that the name has been used in papal history.
7. Jorge Mario Bergogli was reportedly the runner-up in the 2005 papal election that chose Joseph Ratzinger (now retired pope Benedict XVI) as the new Pope.
8. Bergogli was against same-sex marriages. He was unsuccessful in his attempt to stop gay-marriage legislation in Argentina, which was passed in 2010.
9. He has written books on spirituality and meditation.
10. He speaks different languages including Spanish, Italian and German.