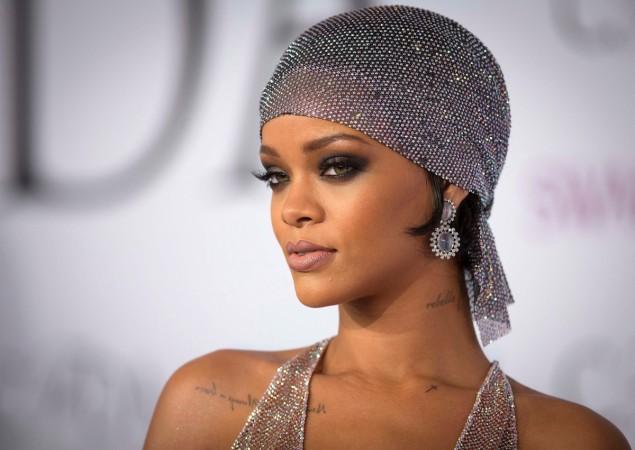 Rihanna is willing to take her new found football love to another level, as she plans to bid to buy Liverpool, according to reports.
The pop star earned a new set of fans by tweeting during live matches by adding her insights. Now she plans to buy a club following her excitement for football at the World Cup, with Liverpool at the top of her wishlist.
Rihanna reportedly enjoyed the Brazil World Cup so much that she also wants to establish a football academy for young players in her native city Bardbados.
According to Dailymail, a source said, "At first we thought Rihanna's desire to be involved with soccer on a business level would soon blow over. We figured she was still on a high from the World Cup.
"But now it's becoming clear she really is serious. She's talking about setting up a football academy in her native Barbados. Then her big dream is to be involved with a UK club."
The singer wants to own Liverpool, according to Spanish newspaper El Mundo Deportivo who said Reds are the team of her choice.
The newspaper also claimed that she has been advised by close friend and Chelsea striker Didier Drogba to make a bid.
Rihanna in her Liverpool outfit .. #LFC #rihanna pic.twitter.com/k6RheB2z7V

— Wio (@ColoWio) August 11, 2014
The Reds, who came second in the Premier League last season, is currently owned by John W. Henry's Fenway Sports Group and it is unlikely that they would want to sell.
However, it remains to be seen what she actually knows about football to run a renowned club like Liverpool, if at all she gets to own it.
Meanwhile, Borussia Dortmund boss Jurgen Klopp thinks that Liverpool can enjoy another successful season after seeing his side come on the end of a heavy defeat during a preseason game at the weekend.
"It's a great club and they did well last year - I saw it," said the Dortmund manager. "If you make the right decisions after you miss [the title] you can be stronger.
"Maybe Liverpool this year is the big team in the Premier League. We will see."
The Reds defeated the Germans in final pre-season friendly and are now gearing up for the weekend's English Premier League opener against Southampton.