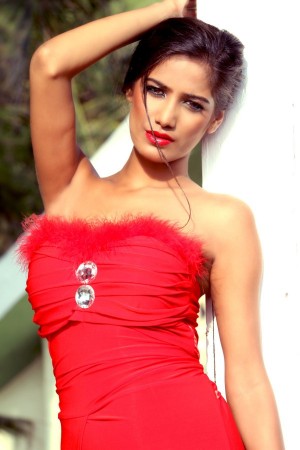 Poonam Pandey, best known for shedding clothes than her acting chops, wants to ape the recent Kim Kardashian "Break the internet" photo shoot, albeit at the right price.
"Presently I am very busy with shooting and all, so haven't been able to keep track of what's happening a lot but I saw Kim Kardashian's magazine shoot a few days back. It depends on how you want to portray it. In the west people don't think that much about these things but we do it here", she told Bollywood Life. "I don't know whom to name right now who would be able to pull that off, but if paid well and if it's for my movie promotions, I would definitely be able to do it."
Pandey, who is busy shooting for her Telugu film "Malini & Co.", posted a couple of pictures from an explicit photo shoot she had done long ago. In her tweet, Pandey claimed that she had stripped naked for the lenses much before Kardashian.
However, this is not the first time that the model-actress has gone nude on social media. After Shah Rukh Khan's IPL team Kolkata Knight Riders won its maiden title in 2012, she tweeted a nude photo of herself calling it a celebration of victory.
SRK, replied to it candidly, and told IANS, "When we won the (cricket) World Cup all our friends went out in cars waving our flag....when KKR won I did a cartwheel...everyone has their own way of expressing happiness..I can't comment on this."
Pandey, whose bold moves are often met with excessive flak, reportedly said it would be ideal if people associated her with 'boldness', adding that she never shies away from doing a bold act for the camera.