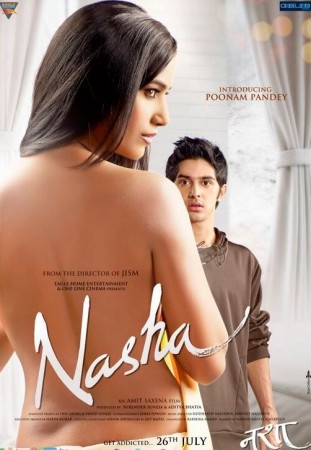 The hype around "Nasha" before its release was great, thanks to its lead heroine Poonam Pandey who knows how to garner free publicity with her overtly sexy acts. Interestingly, such stunts didn't pull crowds to the theatres.
Poonam Pandey's MMS clip, which was reportedly taken from her debut film "Nasha" created lots of hype. The 1.16-minute long clip showing a semi-naked Poonam having a bath has attracted over two lakh viewers over the last two weeks.
However, the fate "Nasha" at the box office is not upto expectations. Reports said that it earned approximately ₹1.2 crore on the opening day, which is not a good start. The weekend collection is also not great as well.
The film didn't do well at the box office, probably because of the negative feedback given by critics. They felt the film has nothing unique to offer and came down heavily on the way the camera hovered over Poonam Pandey's body, over and over again.
It is also possible that her past image could keep the family audience away from the film. On the other hand, many expect lots of skin show in the film, and the lack of it could come as a dissapointment. She told a fan during an online chat on Wednesday that the hot posters of "Nasha" were "just to attract audience".
Poonam hit the headlines for her bold promise to 'bare-it-all' if India won the Cricket World Cup in 2011. India enventually won the title but she didn't fulfill her promise, saying that Indian authorities wouldn't allow her to strip.
However, she went on to post her photos and videos on her website and social networking sites. She bombarded her followers on Facebook and Twitter with news related to "Nasha" in the weeks leading up to its release on 26 July.
"Nasha" has been dubbed as an erotic film. Directed by Amit Saxena, it has Poonam and Shivam in lead roles.