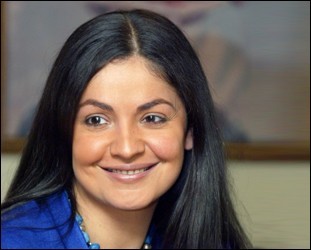 Pooja Bhatt, one of the heralders of adult films in mainstream Bollywood, is cautious of expressing solidarity for the rape victim, reported IANS
The 41-year-old actor-turned-director producer of films like "Jism, "Rog", "Paap", "Jism 2" said that she doesn't chance voicing her opinions on rape victims since she has promoted obscenity.
Bhatt deeply upset with the ongoing social crisis tweeted, "This is not a world to bring more children into. This is certainly not a nation to bring more daughters into. Violence is their destiny."
But then she added that many feel she doesn't stand the right to support the rape victim.
She later posted on twitter, "Each time I speak up about rape or sexual abuse, some 'saint' tells me that I have no right to since I introduced a 'adult film star' to Bollywood."
"I humanised an 'adult film star' and got her accepted into the mainstream. The rest of Bollywood is now free to objectify her like they do most women."
Bhatt had introduced Indo-Canadian porn star Sunny Leone in Bollywood with her film "Jism 2".
Leone features in Sanjay Gupta's "Shootout at Waadla" for which she shot a raunchy item song "Laila".
Bhatt had also introduced Bipasha Basu in the role of a seductive vamp with her erotic thriller "Jism" (2003).