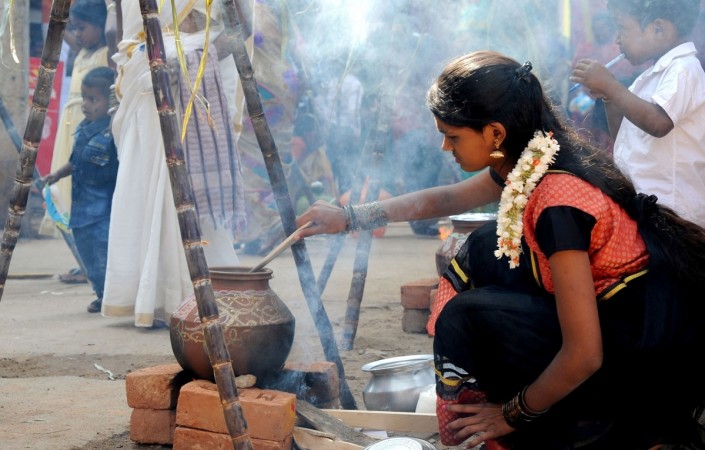 The Pongal celebrations will kick-off this year on Sunday, January 14, and it comes to conclusion on January 17. It is the first festival in the Hindu calendar, which will be celebrated by Tamilians across the globe.
The four-day harvest festival is observed to thank Lord Surya and mother Earth for bringing prosperity.
The first day of the event commences with people cleaning their houses and throwing away unnecessary things to the bonfire lit mainly from cow dung. People decorate their veranda with colourful rangolis and sport new dresses to welcome the festival. It signifies that they are starting their lives afresh.
On the second day, womenfolk boil milk in new pots tied with turmeric plant, and prepare the sweet dish 'pongal' among many other food. Cows and bulls take centre stage on the third day.
The celebration include performing poojas for cows decorated with bells, flowers and beads, and fed with pongal. The traditional bull-taming fight, Jallikkattu is also celebrated as part of Pongal in Tamil Nadu on this day.
The curtains will be dropped to the four-day festival as leftovers are served on a turmeric leaf along with ordinary rice, betel leaves and nuts, turmeric leaves, plantains and two pieces of sugarcane. It is also the time for people to call upon their relatives before they return to their normal day-to-day lives.
In short, Pongal is more of a cultural festival than a religious one. Here, we bring to you the quotes and greetings to share with your family and friends:
May 2018 be a year of prosperity.
May your life be filled with the blessings of Goddess Lakshmi.
Happy Pongal
I am here to wish you the greetings of Pongal, which is a festival to share happiness. Have fun with family, enjoy the fun-filled festivities of Pongal.
May every drop of Pongal brings you happiness, May this Pongal fill your life with bounties of happiness, wealth and goodwill. Happy Pongal 2018.
As you celebrate Pongal with a lot of passion and cheerfulness, I wish you celebrate the day with immense joy and happiness. Happy Pongal 2018
It's time to enjoy the first festival of the year. Wishing you the greetings of a prosperous, delightful and auspicious harvest festival that gives you a lot of happiness. Happy Pongal 2018.
May God's blessing of peace, love, joy and prosperity be with you on this Pongal now and always. Happy Thai Pongal, Mattu Pongal 2018.
I may be away from you, but my sincere wishes are here. With a heart full of love, I wish you the greetings of Thai Pongal. Happy Pongal 2018.
May you have the three important things in life -- Happiness, Health, Wealth, now and always. Spend the special festival of Pongal with your family, have lots of fun, enjoy Jallikkattu and be happy. Wishing you the greetings of Thai Pongal 2018.
Another Pongal is here, hope your home and heart brim with happiness, good tidings and the warmth of your dear and near ones on this harvest festival. Happy Pongal 2018.
May this festival bring in the Promise of a good harvest,sweetness of Pongal, Brightness of the sun; joy, hope and happiness. Happy Makar Sankranti
Makar Sankranti denotes great planning and happy beginnings; daring and new destinations; success and sweetness. Wish you a great Pongal! And Joyous Makar Sankranti!
Sending you warm greetings on the auspicious occasion of Pongal and wishing you life's best now and in all the days to come. Happy Makar Sankranti
Our thoughts hold the power to build, bend or break our circumstances. Best wishes.
A beautiful, bright and delighted day, sun entered Makar to intense the ray. Crop harvested to cheer the smiles, come together and enjoy the life.
To sweet friend, I send Pongal Wishes for you with love. I hope this harvest is the Best in the whole year and you Have lots of grains to earn profits.
May the Pongal fire burn all the moments of sadness and bring you warmth of joy and happiness and love...
A new beginning, a new destination, with happiness or sorrow, with pain or pleasure. Happy Makar Pongal.
May your life be blessed with love.
May your life be blessed with lakshmi
May your life be blessed with happiness.
Happy Makar Pongal