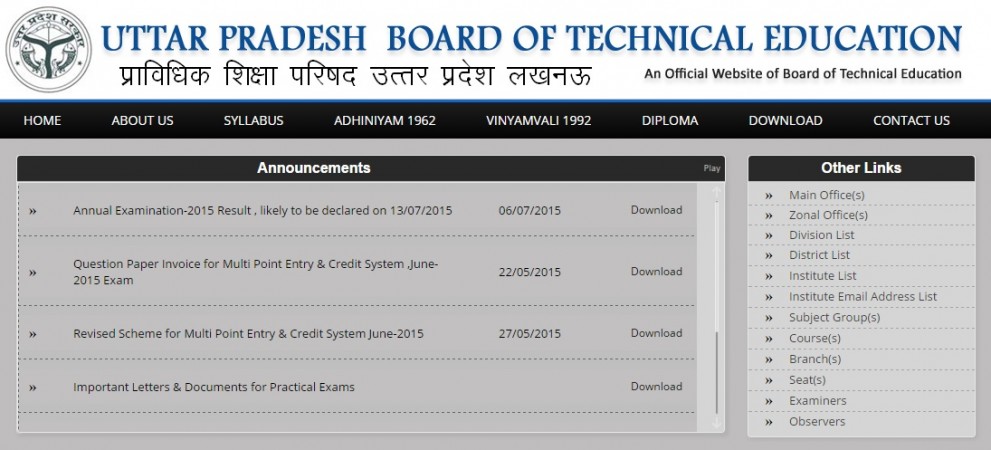 UPDATE: Uttar Pradesh Polytechnic Diploma 2015 exam result for 3rd (final) year will now be declared on 13 July (Monday). The BTEUP was supposed to declare the results on 6 July, however, it has postponed it by a week, without citing any reason.
Original Story: The Board of Technical Education, Uttar Pradesh (BTEUP) is likely to declare the 2015 Polytechnic Diploma exam result for third (3rd) year on Monday, 6 July.
Students, who appeared for the Uttar Pradesh Polytechnic Diploma 3rd year exam, can check their result on the official website of BTEUP or UPBTE.
Students can check their marks by entering the roll number provided by their respective colleges. Thereafter, they can keep a hard copy of the marksheet for further referrence.
The results were supposed to be declared on 30 June; however, it was postponed later. The BTEUP in Lucknow is expecetd to declare the results on Monday, according to Live Punjab.
They have also put up a notification on their official website.
The BTEUP conducts examinations for students enrolled with various Polytechnic colleges across the state in several disciplines, including Civil, Mechanical, Electrical, Electronics, Auto Mobile, Production, Computer Science (CS), Information Technology (IT), Agriculture, Dairy and other PG and Pharmacy Diploma courses.