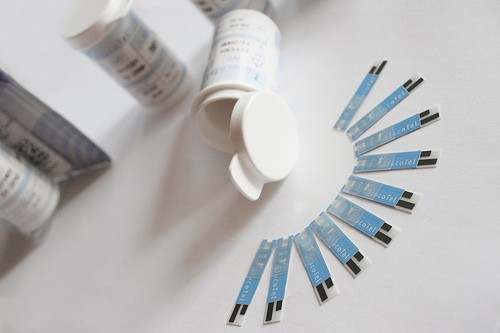 Young women with a common hormonal disorder are at greater risk of developing type 2 diabetes, says a new study.
In the study, women with Polycystic ovary syndrome (PCOS) had three to five times higher risk of developing type 2 diabetes than women without the disorder.
PCOS is a common disorder in women that leads to irregular menstrual periods, acne, obesity and excess hair growth. About one in 15 women across the world is said to be affected with the disorder.
For the study, Professor Helena Teede and colleagues from Monash University in Australia looked at 6,000 women, aged between 25 and 28. Of the total, 500 were suffering from PCOS . At the end of the nine-year study, researchers found a direct link between the two. Women with the disorder had an increased risk of developing type 2 diabetes than the others. However, they couldn't find any role of obesity in the chronic disorder.
"Our research found that there is a clear link between PCOS and diabetes," professor Teede, said in a news release. "However, PCOS is not a well-recognised diabetes risk factor and many young women with the condition don't get regular diabetes screening even pre pregnancy, despite recommendations from the Australian PCOS evidence based guidelines."
Researchers hoped that their study will help prove the link between the two and encourage more women to be screened for diabetes. "Type 2 diabetes itself is preventable, as are diabetes complications, but only if people at risk of or who have diabetes are screened, aware and take preventative action," Professor Teede said. "With the dramatic rise in diabetes, this research highlights the need for greater awareness and screening, especially in high risk groups including young women with PCOS."
Findings of the study were presented at the joint meeting of the International Society of Endocrinology and the Endocrine Society (ICE/ENDO) in Chicago.
Apart from type 2 diabetes, women with Polycystic ovary syndrome are known to be at a higher risk of many other diseases and medical conditions, including high blood pressure, high cholesterol, metabolic syndrome, sleep apnea, endometrial cancer, obesity, cardiovascular diseases and liver inflammation.
The condition also impairs fertility, due to which women struggle to become pregnant. The high level of insulin resistance associated with the disorder plays a major role in this occurrence. The excess production of insulin in the body leads to additional production of testosterone in the ovaries.
Previous research on the subject have also found that type 2 diabetic patients who had daughters with Polycystic ovary syndrome were at a higher risk of dying early than the others.