Politics over the ongoing anti-encroachment drive in Jammu and Kashmir has intensified as politicians stepped up the campaign against this campaign. While Peoples Democratic Party (PDP) president and former Chief Minister Mehbooba Mufti tried to take out a march in Delhi, ex-Chief Minister Ghulam Nabi Azad warned return of stone-pelting culture in J&K.
PDP chief Mehbooba Mufti on Wednesday took to the streets in the national capital to protest against the ongoing anti-encroachment drive being carried out by the administration in Jammu and Kashmir.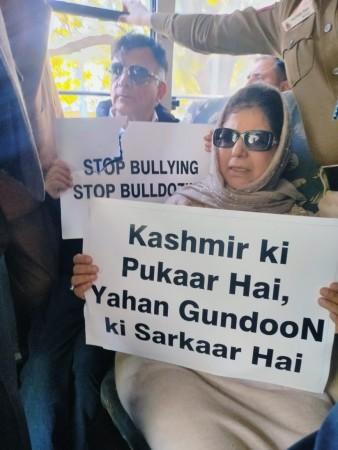 Carrying placards Mehbooba Mufti, along with some of her supporters, gathered at the Boat Club area with an aim to march towards Parliament in a bid to inform the opposition parties about the ongoing anti-encroachment drive being taken in the Union Territory of Jammu and Kashmir.
However, police detained the former Jammu and Kashmir chief minister, and took her and party workers to Jantar Mantar. The protesters dispersed from Jantar Mantar. The former Chief Minister was later released.
"We had come to inform the public, opposition parties, and members of the ruling BJP about the misery faced by the public at large in Jammu and Kashmir but we were not allowed to highlight our plight", she said.
"If we can't go to Parliament, I wonder where we should go then. Does the government want us to get our grievances redressed at the United Nations", Mufti asked.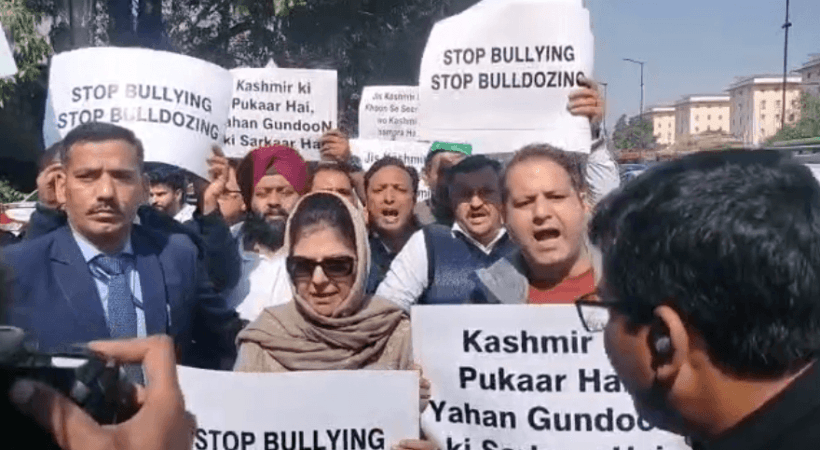 During the protest, Mufti accused Lt Governor Manoj Sinha and the Jammu and Kashmir administrations of turning the Union Territory into Afghanistan by indulging in large-scale destruction.
"There is no rule of law in Jammu and Kashmir. First, we were deprived of our identity, then our jobs, and now our homes and shops. Wonder what this government wants?" she asked.
PDP workers hold protest in Srinagar
Meanwhile, scores of PDP functionaries and leaders staged a protest outside the party headquarters at Srinagar.
Raising slogans against Delhi Police, and shouting slogans "Today our party president Mehbooba Mufti had planned a protest in Delhi, neither are we allowed here nor in Delhi to register our protest, is BJP running dictatorship here".
Party Spokesperson Najmu Saqib said that after the detention of their party president in New Delhi, they wanted to hold a protest in Srinagar's Press Colony to seek the immediate release of Mehbooba Mufti and other leaders accompanying her, but they were not allowed to proceed.
The protesters also said that the party will continue to protest till the order regarding anti-encroachment is revoked by the government.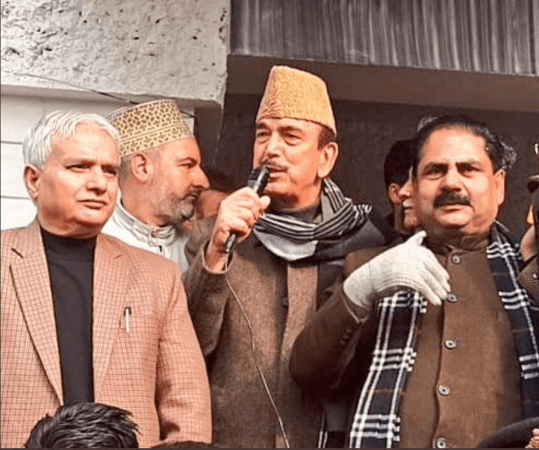 Azad cautions the government against demolishing homes, small shops
Meanwhile, Democratic Azad Party chairman and former Chief Minister Ghulam Nabi Azad on Wednesday cautioned the Jammu and Kashmir administration against its ongoing anti-encroachment drive, saying the 'hartal and stone-pelting culture is likely to return if homes and small shops are demolished.
The eviction drive has resulted in corruption as people were paying bribes to revenue officials to ensure their names do not feature among those who have encroached on state land, the former chief minister of Jammu and Kashmir alleged.
Azad thanked Union Home Minister Amit Shah and Lieutenant Governor Manoj Sinha for their assurances of not harming the poor population but demanded that an official order should be issued to provide relief to the distressed people.