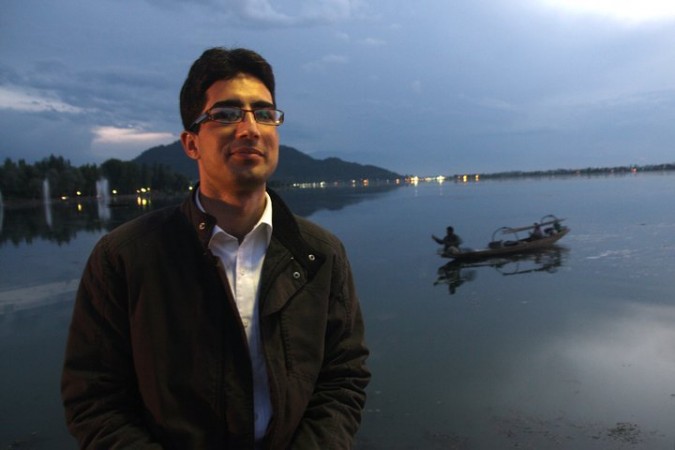 The 2010 Indian Administrative Services (IAS) topper, Shah Faesal, who is in the thick of controversy over his 'rapistan' comments, is rumoured to be joining the political bandwagon in Jammu and Kashmir.
Faesal has given some fuel to the rumour mills by seeking suggestions from people in his latest Facebook post. And guess what? Netizens have taken it upon themselves to advise Faesal whether he should quit bureaucracy and join politics.
Faesal, as per the buzz, may leave his administrative job and join the National Conference.
His recent post has only made people more curious. The first IAS topper from Jammu and Kashmir has also been critical of the way in which the bureaucracy functions in the country.
He has voiced his opinions on the crime rate in the country and human rights violations in Kashmir, among many controversial issues.
However, the Narendra Modi-led government recently served him a notice regarding his 'rapistan' comments. Faesal reportedly said that he is ready to trade his job for his freedom to speak, which he considers more important.
His latest Facebook post has invited some interesting comments.
Journalist and political commentator Gowhar Geelani suggested on Facebook that he should join the 'resistance camp' (separatism).
A medico and social worker, Ijtaba Shafi, replied, "We need you in the system rather than politics.You can do much much better while being in system even if the interventions might be small.By joining politics you will do nothing new and can't do wonders."
Veteran journalist and political commentator Mohammad Sayeed Malik posted a sarcastic comment that Faesal should go for a plebiscite which would be a rather unusual way to explore options or even to test waters.
Sanjay Parva, a doctor and a writer, posted a detailed comment, "Let's form an NGO and do something on ground for our state and our people. My experience says writing might get you a temporary high for a thousand likes and 600 comments, but at the end of the day when you ask your conscience your contribution for the society, it is a big zero."
"Seems we all are wasting our lives, while a bunch of like-minded people could have done a lot. One quote for you: "One who takes only and never gives, lives long, but never lives -- jo sirf leta hai, deta nahin, jeeta hai, par jeeta nahin," he added.