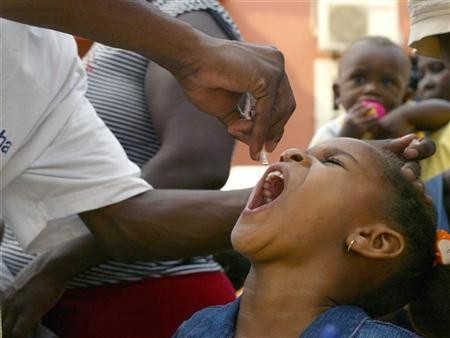 Health officers from Brazil have reportedly discovered polio virus from sewage samples in Campinas, near Sao Paulo, a World Cup hosting city.
However, no human cases have been reported so far, World Health Organization (WHO) announced on Monday.
Campinas is currently the base camp of both Nigeria and Portugal teams. The city is close to 60 miles from Sao Paulo, which is Brazil's most populous city.
The virus - identified as Wild poliovirus type 1 (WPV1) - was found during a routine health test at the city's Viracopos International Airport.
Until now, there have been no reports of any evidence of transmission, or any case of paralysis from polio.
"The World Health Organization asseses the risk of further international spread of this virus from Brazil is very low," said the WHO report.
Since 1989, Brazil has been a polio-free country and, in 1991, WHO declared the region was free of wild polio transmission.
The latest national immunization campaign for Brazil was conducted a year back, and the rate of polio vaccination has been greater than 95 percent, reported WHO.
The health officials are investigating into the finding and are increasing their surveillance activity. When the virus strain was genetically sequenced, it was found to closely relate with a strain recently identified in Equatorial Guinea.
The organization, which is working for polio eradication and also campaigning for its vaccination, has noted that Equatorial Guinea is presently experiencing a continuing outbreak of wild poliovirus type 1.
"Genetic sequencing indicated a close match with a strain of WPV1 that was recently isolated from a case of polio in Equatorial Guinea," stated WHO.
Polio virus chiefly affects children under five years of age. It is an acute viral disease that occurs when the deadly virus makes its way to the mouth or nose and multiples in the gut. The virus eventually enters the blood stream and affects the nervous system. One in 200 infections can lead to paralysis, according to the WHO.
International Travel and Health from WHO recommends that all travellers moving to and from polio-affected areas should be fully vaccinated against polio virus.
The US Centers for Disease Control and Prevention (CDC) has recommended that people should undergo routine vaccinations before travelling to any destination. Vaccines for polio, measles-mumps-rubella and the seasonal flu vaccine are among the routine vaccinations.