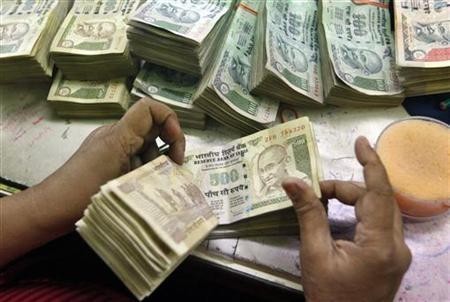 The Indian rupee continues to depreciate against the US dollar, as domestic developments such as weak corporate earnings and uncertainty over the government's tax policy on foreign investors weigh on the currency.
The rupee extended its losses against the greenback for the second straight day on Thursday, falling by 12 paise to close at 63.42.
"Rupee continued to trade low for the second consecutive day taking cues from month-end dollar demand from oil importers and weak local equities which has already corrected more than 7 per cent due to weak corporate earnings and concern over taxes," Veracity Group CEO Pramit Brahmbhatt, told Business Standard.
The rupee has depreciated nearly 2 percent in April, as capital outflows intensified due to continued selling of equity holdings by foreign institutional investors (FIIs).
The Indian stock markets plunged by 10 percent from their record highs hit in March, following the government's notices to foreign investors asking them to pay Minimum Alternate Tax (MAT) on long-term capital gains earned from the sale of equities earned in previous years.
"The rupee was one of the worst performing EM currencies against the US dollar in April, but we doubt that this will cause panic among India's policymakers," said Capital Economics in a note.
The weakening rupee raised speculations that the Reserve Bank of Intervention (RBI) would step in to contain its fall.
"But we wouldn't read too much into this. For a start, it is not unusual for the RBI to intervene. It does not specifically target an exchange rate, but is often at hand to smooth out volatility in the foreign exchange market," said Capital Economics.
The firm said the rupee actually performed well in the year so far despite the latest sell-off.
It has depreciated by just 0.5 percent against the dollar since the beginning of the year.
The currency has appreciated by 15 percent on a real trade-weighted basis since the NDA government came to power last year.
A gradual depreciation in the currency may be "welcomed by the policymakers," Capital Economics said.
The research consultancy said the rupee is unlikely to witness "a sharp sell-off like the one seen in 2013" even after the US Federal Reserve starts raising interest rates.
"For now, we doubt that Indian policymakers will be unduly worried, meaning that further rate cuts are still likely this year," it added.