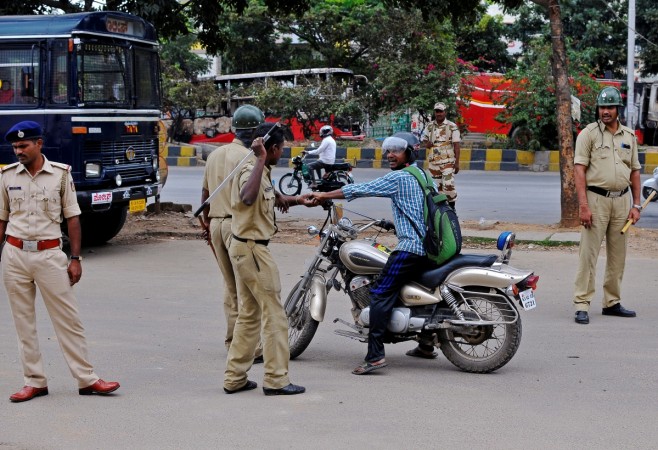 On Tuesday morning, Raghavendra, a circle inspector at Malur police station, allegedly committed suicide by shooting himself with a service revolver in Karnataka's Kolar district. This is the latest in a growing list of suicides committed by police officials in the state.
On July 7, a deputy police superintendent, MK Ganapathy, killed himself at a lodge in Kodagu district. Two days before Ganaparthy died, Chikmagalur deputy police superintendent Kallappa Handibag also killed himself in his father-in-law's home. Two weeks later an assistant commissioner in Hassan and a sub-inspector in Bengaluru tried to end their lives.
According to the Ministry of Home Affairs, 39 police personnel ended their lives in Karnataka between 2012 and 2014. The state is now ranked second in suicides by police personnel in south India, and fifth in India.
Why is the suicide rate high among police officers in Karnataka?
Some of the issues that the police officers, who have ended their lives, allegedly faced include nepotism, bribery and inaction. Housing for police personnel, promotions and salaries are also cited as issues that are plaguing the Karnataka police department. Many of the police officers have alleged harassment by senior colleagues. PSI Roopa of Vijayanagar police station, for instance, consumed 25 paracetamol tablets and was rushed to the hospital. She cited harassment by senior colleagues as the reason for her suicide attempt.
Those who are in the lower ranks are reportedly affected by long work hours, frustration, harassment and corruption. Many of them have also been asked to do personal work for senior police officers at their homes. Senior police officials have been reportedly affected by nepotism, no merit-based promotions, transfers and just an inability to perform their duties effectively. Practices like paid transfers have become the norm in the system they allege. Severe shortage of police personnel has also added to their woes. In July, there were reportedly 25,000 sanctioned posts that were vacant.
The government's stance
Karnataka Chief Minister Siddaramaiah and his government have been facing flak for the recent spate of suicides by police officers. For instance, when Ganapathy died, the Bharatiya Janata Party demanded a Central Bureau of Investigation (CBI) inquiry which the CM rejected. While the police officer had clearly named former Karnataka Home Minister KJ George and two senior IPS officers as responsible if anything happened to him, the CM gave all three men a clean chit. This has not gone down well with the public and the Opposition.
Siddaramaiah has been caught up in numerous other controversies as well this year including the uproar over his Hublot watch. With one more police officer taking his life, it remains to be seen what steps the CM will take to address the plight of the state's police personnel.