Water cannons were used to suppress Congress leaders protesting against BJP government for failing to restore power and water supply at Nangloi railway station.
Arvinder Singh Lovely, Sajjan Kumar and Mukesh Sharma along with 150 supporters broke into Nangloi railway station shouting slogans against the persistent power and water crisis in Delhi.
According to reports, Lovely and the other protesters spread across the railway tracks and sat there since 9.30 am preventing trains from moving inside or outside the station. Police had to fire water cannons when they refused to vacate the area.
Later, Lovely, Sharma, Kumar and many other Congress leaders were arrested by the Delhi police and taken to Gonda police station.
Apart from riticizing the police for preventing them from carrying out their protest, Congress leaders Sharma and Lovely have also warned the government that they'll keep protesting until the poor electric condition prevails in the city.
"We condemn the police action. We were not even allowed to protest peacefully. The party will continue its agitation till people are provided relief from long power cuts and water scarcity," Zee News quoted Sharma.
Protest at Vikas Marg
On the fourth consecutive day, Congress protested at different parts of the city against the persisting water and power woes. Former MLA Dr. AK Walia held a protest in Vikas Marg.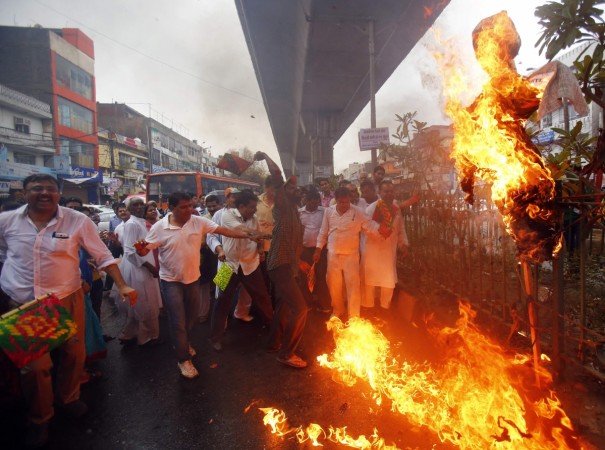 During his protest, Walia praised the Congress rule and criticized AAP for giving priority to their own issues and ignoring the promises made. Condemning the BJP government, he said that they have been ignorant of people's problems.
"AAP (Aam Aadmi Party) came into power for 49 days, they didn't do anything except for making false promises and kept on protesting for their own issues. Now under the governance of BJP, nothing has been done to solve the problems faced by the common man in the capital and the party hasn't even had a meeting to improve the system," ANI quoted Walia.
The first protest by Congress was led out on Monday, when they held Delhi Chief Secretary captive inside the Delhi Secretariat office for an hour and half. S K Srivastava was let free only after signing a note with the promise to take necessary measures to curb the problem.
Delhi has been facing water shortage and power outages after the 30 May thunderstorm, which disrupted power transmission and water supply.
Many measures were taken by the Central government to cope with the problem such as barring electric supply to malls after 10 pm, requesting everyone to keep the temperature of AC above 25 degree celsius and asking universities, colleges and government offices to shut their AC between 3:30 and 4:30 pm to preserve energy.
The restoration of power transmission network and supply of inconsistent electricity might take a week, according to reports.