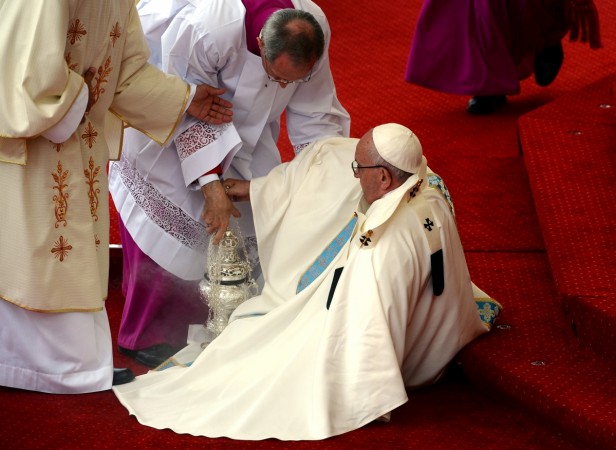 Pope Francis, during his first visit to eastern Europe, urged the youth on Thursday to be more welcoming to migrants who are arriving from all across in search of a better life in the continent. He also managed to overcome a tumble he took after missing a step before a mass he was slated to attend.
The pope was visiting Poland to mark 1,050 years of the country adopting Christianity. Although the nation has taken a harsh stance against migrants, with its right-wing government seemingly vindicated by the attacks perpetrated by immigrants in the rest of Europe, Pope Francis chose to dwell on the subject.
Speaking at Krakow in Poland, which was home to his predecessor Pope John Paul II, Pope Francis told a gathering of several hundreds to be more compassionate to migrant individuals and families. He said: "A merciful heart opens up to welcome refugees and migrants."
The migrant crisis in Europe has been persistent for quite some time, being the worst of its kind since World War II.
Pope Francis on Thursday also celebrated mass at the Jasna Gora monastery, considered Poland's holiest Catholic shrine. The 79-year-old pope apparently missed a step and fell on the ground before the altar at the shrine. A Vatican spokesman later said he was "fine."
The incident took place just before the mass. A visibly unmindful Pope Francis seemed to have overlooked a step, and his robe seemed to have played a part by blocking his line of sight. He fell down at the foot of the altar, and clergymen around rushed to help him.
However, Francis seemed nonplussed by the stumble, as he went on to deliver a long sermon to the people gathered at the monastery.
As part of his visit to Poland, Pope Francis is on Friday expected to visit the Auschwitz-Birkenau concentration camp, one of the most infamous ones set up by the Nazis during World War II. He is also expected to interact with survivors from the camp.