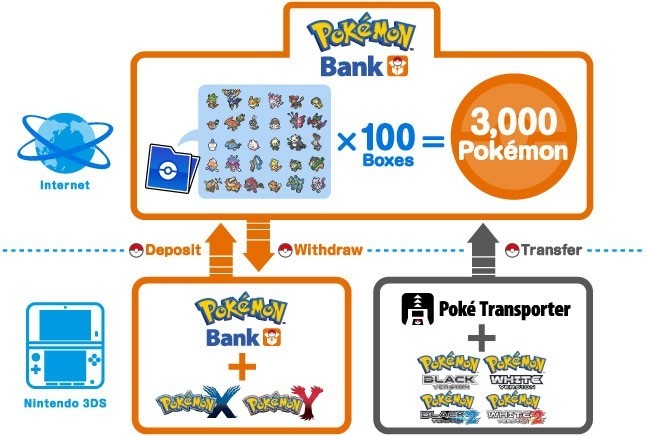 The promised release of Pokemon Bank app and Pokemon Transporter on 27 December for players of the Pokemon X and Y will now be delayed due to a rise in the server traffic, said Nintendo and The Pokemon Company on the official Nintendo Support Page.
Nintendo said that the international launch has been postponed, "due to a large volume of traffic to the Nintendo Network service" as players are having difficulty in creating Nintendo Network IDs and downloading content in the Nintendo eShop. It said it is affecting both Wii U and Nintendo 3DS.
A message was posted regretting the trouble caused to Nintendo fans, "We truly regret the inconvenience, and wish to reassure everyone that providing a solution is our top priority. We apologize for the delay and thank you for your continued patience."
The company also embarked on a 12-hour maintenance period to restore connectivity. The cause of the trouble was pointed to an excess number of gamers accessing Nintendo's online services to connect with their Nintendo Network ID with a Nintendo 3DS/2DS. The rate of gamers was higher than what Nintendo expected.
Gamers also had difficulty in accessing the eShop for Wii U and Nintendo 3DS, purchasing and downloading content and creating or editing a Nintendo Network ID. Many gamers worldwide have since gotten their server fixed but unfortunately Pokemon Bank and Poke Transporter will not be available for release, IGN reported.
Pokemon Bank is an online cloud store app where players will be able to store up to 3,000 Pokemon in 100 boxes and they can further import Pokemon from previous Pokemon games like Pokemon Black Version, Pokemon White Version, Pokemon Black Version 2, and Pokemon White Version 2 to Pokemon X and Y. The app is subscription based and will cost $5. The app will be free for use in the first 30 days. Along with the Pokemon Bank, Nintendo had also announced that it will be giving a freebie in the form of Pokemon Celebi, only if accessed before 30 September, 2014.