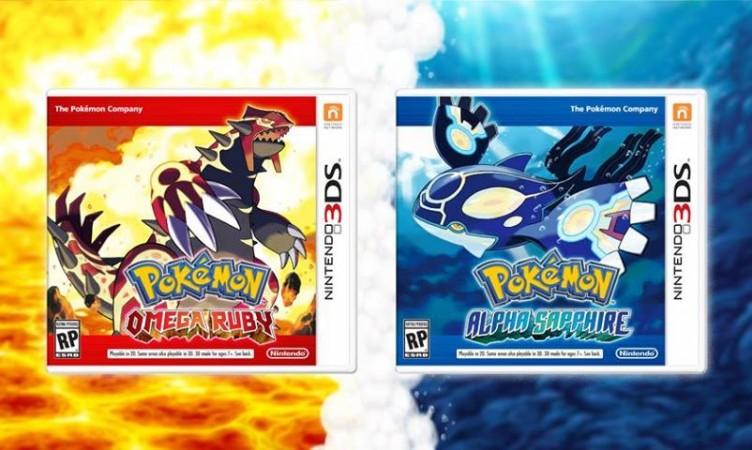 Pokemon Omega Ruby and Alpha Sapphire (Pokemon ORAS), from developer Game Freak and The Pokemon Company, gets another set of events for its players. Pokemon ORAS is one of the most popular games in the Pokemon series.
Serebii, the trusted Pokemon website reports of some new events coming to the Pokemon ORAS. These events follow the recent announcement of the Hoopa event in US, UK and Europe.
Pokemon ORAS, a role-playing video game, was released on 21 November, 2014 as a Nintendo 3DS exclusive.
Here are some of the events for Pokemon ORAS players:
Zoroark Event: Pokemon ORAS players in UK will now be able to access the Zoroark event. Note that players can obtain this event via Serial Code from GAME stores starting today until 26 November. It was also reported that this event was released to overlap with the BREAKthrough TCG set.
Pokemon Zoroark is a 'unique' Pokemon with Sludge Bomb as its move. It can be redeemed using Pokemon X and Y and Pokemon ORAS.
Shiny Yveltal Event: The event is being made available in commemoration of the launch of Pokemon XY and Z in Japan. This event is Japan specific and will be open for players of Pokemon X and Y, and Pokemon ORAS.
The event was made available via a shared Serial Code – PUNICHAN. Players can use only once per game. To redeem it, players must head to Mystery Gift > Receive via Code option.
The last date to redeem it will be 12 January. Zygarde event will follow Shiny Yveltal event, and it starts on 12 November.
Pokemon Super Mystery Dungeon now available
Nintendo 3DS owners in North America will now be able to pre-purchase Pokemon Super Mystery Dungeon via Nintendo eShop.
Pre-purchasing will allow players to download the game and keep it, making it playable on 20 November. Interested players must note that the download file weighs 1848MB.
Pre-purchasing it allows them to access Pokemon Super Mystery Dungeon Bonus (this is a limited-time offer, lasts until 6 December).
Meanwhile, North America Nintendo 3DS owners will also be getting new themes for their handheld consoles -- Mega Mewtwo and BREAK Evolution. This new theme will bring a design of lightning spark around the BREAK evolutions, as users scroll it. It will also play Pokemon X and Y's Battle! Mewtwo! music and will cost $1.99.