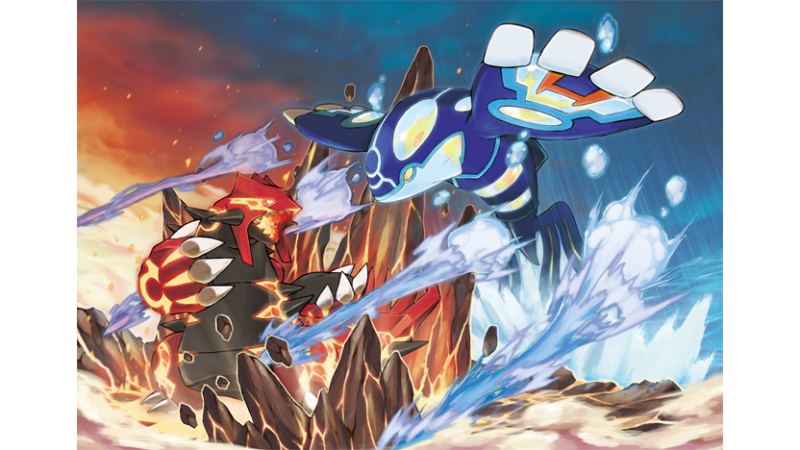 Pokemon Omega Ruby and Alpha Sapphire gets a new trailer, showcasing a story that revolves around Mega Evolutions.
The new video, which is three-and-a-half minutes long, showcases some of the Mega Evolutions and a story on how these Pokemon managed to evolve into this form.
The Mega Evolutions for Primal Kyogre and Primal Groudon are shown in the trailer. The game will see the return of Secret Bases, which can be used for training etc.
The trailer has left a gap for future explanation of some of the truth behind the Mega Evolutions and how they came to be in the first place.
Also, the Pokemon Contest Live with Contestant Lisa and the Pikachu Cosplay were previously showcased to be part of Pokemon Omega Ruby and Alpha Sapphire.
Team Aqua and Team Magma have returned from the original games to the new game. The trailer also provided players a quick look at some of the upgraded contests and updated features which are introduced in the game.
The trailer also reveals the Japanese pre-order bonus of figures of Kyogre and Groudon. The pre-order period for Japan will start from 20 September. Also, players are likely to get a special double pack of the games and 100 Potions via two serial codes for each of the game.
Players who download Pokemon Omega Ruby and Alpha Sapphire, from 21 November to 30 November, will be given 12 Quick Balls. Also from 21 November to 14 January there will be the shiny Beldum event.
It has been revealed on Serebii, a trusted website related to Pokemon news, that Pokemon Omega Ruby and Alpha Sapphire will take 1.8 GB of space when downloaded from the Nintendo eShop.
European pre-ordered copies will get limited edition Steelbooks, featuring legendary Pokemons. They will also eligible for other sweet bonuses.
Pokemon Omega Ruby and Alpha Sapphire will be released on 21 November for North America and Japan. European release will be on 28 November. The game will be released only on Nintendo 3DS.
(YouTube courtesy: PokemonCoJp)