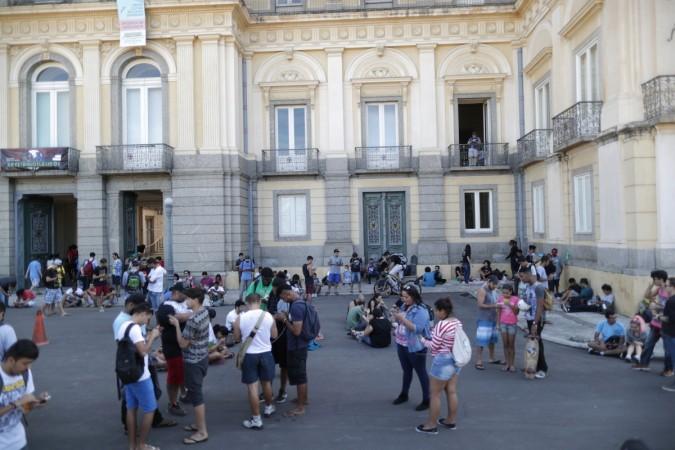 The buzz word in Brazil at the moment is Rio Olympics but not everybody is glued to their television screen watching games or out in the stadium and arenas to witness the events live. Many are reportedly roaming around in the open busy with another type of game called "Pokemon Go."
The popular augmented reality (AR) mobile phone game was released in Brazil a few days ago, almost a month after it was launched in several other countries. So, the craze on the game has reached fever pitch.
Interestingly, Reuters has reported that "Pokemon Go" is challenging the Olympics for most popular game among the Brazilians with hundreds of them hunting for Pokemon in the Rio de Janeiro park. Mobile phone company, Claro has claimed that about 2 million of its users in Rio area have downloaded the game since its launch, indicating the popularity.
"I went to a football game to see Brazil play Sweden, but after Pokemon Go started I lost interest," Lourdes Drummond, a student, told the news agency.
"There is no interest in the Olympics here, just how to get to the next stop where there are the most Pokemon," said sociologist Joao Carlos Barssani, 31.
"Pokemon Go" is a free augmented reality (AR) mobile phone game that lets players catch virtual characters in real life environment. It is currently available only for iOS and Android platforms.
The game has been released in about 80 countries, including several Asian countries like Japan, Hong Kong, Cambodia, Indonesia, Laos, Malaysia, Philippines, Singapore, Thailand, Vietnam and Taiwan, but it is yet to come to India. Countries like China and South Korea, which are one of the world's top gaming markets, too haven't got the game.
With Nintendo and Niantic having banned APK file and VPN (Virtual Private Networks) of "Pokemon Go", gamers in countries like India have no means to play it though some early birds managed to have a hand on it. There were reports that the game would come to the country in August, but it is now unclear with a Public Interest Litigation (PIL) been filed to stop its release in the country.
A PIL has been filed in the Gujarat high court seeking a ban on the game, arguing that it could cause chaos. Citing a few accidents that have happened in the country among "Pokemon Go" players, it argued that more chaos could happen after its full version is released.
Iran has banned the game over safety concerns.