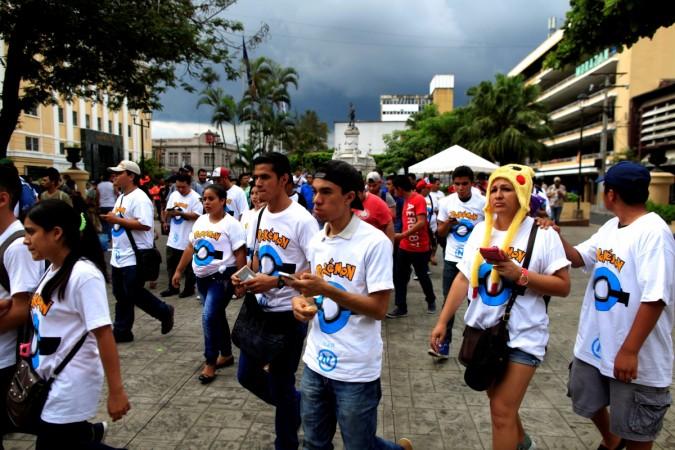 Popular mobile AR video game from Niantic "Pokemon Go" recently received a new update for both Android (0.35.0) and iOS (1.5.0) devices. This update brought a new Appraise feature for the game.
But what is this new Appraise feature? How does it help the game?
Technology website iDigitalTimes has shared a guide that will help players understand and use the new feature effectively.
Players will notice that "Appraise" is an option that has been added if one is looking at Pokedex and a particular Pokemon with the intention of trading it.
Clicking on this option will result in players receiving a funny message from their team leader that might read, "Your Omaynte exceeds my calculations."
Several players wanted to know if these comments from the leader must be taken seriously and the answer is yes.
Players might have noticed that every Pokemon has what is called Individual Values (IV), which is comparable to human genes. So the Pokemon, no matter how much the Trainer trains them, will have pre-determined strengths and weakness. This is one of the reasons why a particular Pokemon does not do well with certain types of Pokemon.
Initially, several players used fan-made and third party tools that would help them in fixing the Pokemon IVs. But this is not possible now as the tools have been banned and some players too who used it have been banned.
So players will now be able to capitalise on the in-game appraisals from their respective team leaders, be it Candela, Blanche and Spark.
What do the messages from the Team Leader mean?
If players are in a doubt regarding the meaning of the comments from Team Leader, Reddit users have broken it down for the players. Each Team Leader has two different comments for the Pokemon. One apprises total IV of a Pokemon and second one is about individual stats of a Pokemon.
Total IV Appraisal Comments
"Overall, your Pokémon simply amazes me! It can accomplish anything!" – IV: 81%-100&

"Overall, your Pokémon is a strong Pokémon. You should be proud!" – IV: 66%-80%

"Overall, your Pokémon is a decent Pokémon" – IV: 51% - 65%

"Overall, your Pokémon may not be great in battle, but I still like it!" – IV: 0%-50%
Stat Comments
"I'm blown away by its stats. WOW!" – At least 1 IV at 15 (max)

"It's got excellent stats. How exciting!" – At least 1 IV is between 13-14

"Its stats indicate that in battle, it'll get the job done." – At least 1 IV is between 8-12

"Its stats don't point to greatness in battle." – At least 1 IV is between 0-7
Total IV Appraisal Comments
"Overall, your Pokémon is a wonder! What a breathtaking Pokémon!" – IV: 81% - 100%

"Overall, your Pokémon has caught my attention" – IV: 67% - 80%

"Overall, your Pokémon is above average" – IV: 51% - 66%

"Overall, your Pokémon is not likely to make much headway in battle" – IV: 0- 50%
Stat Comments
"Its stats exceed my calculations. It's incredible!" – At least 1 IV at 15 (max)

"I am certainly impressed by its stats, I must say." – At least 1 IV is between 13-14

"Its stats are noticeably trending to the positive." – At least 1 IV is between 8-12

"Its stats are not out of the norm, in my opinion" – At least 1 IV is between 0-7
Total IV Appraisal Comments
"Overall, your Pokémon looks like it can really battle with the best of them!" – IV: 81%- 100%

"Overall, your Pokémon is really strong!" – IV: 67%-80%

"Overall, your Pokémon is pretty decent!" – IV: 51%-66%

"Overall, your Pokémon has room for improvement as far as battling goes" – IV: 0%-50%
Stat Comments
"Its stats are the best I've ever seen! No doubt about it!" – At least 1 IV at 15 (max)

"Its stats are really strong! Impressive" – At least 1 IV is between 13-14

"It's definitely got some good stats. Definitely!" – At least 1 IV is between 8-12

"Its stats are all right, but kind of basic, as far as I can see" – At least 1 IV is between 0-7