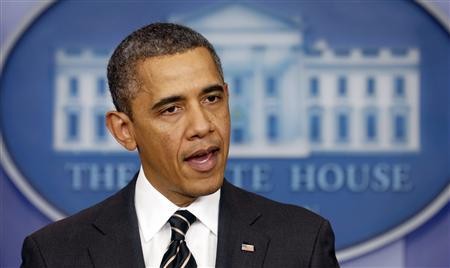 A letter addressed to President Barack Obama, which was suspected to contain deadly poison, reportedly tested negative, according to U.S. Capitol Police.
The Federal Bureau of Investigation (FBI) had earlier said that preliminary tests on the letter, which was addressed to the president and was intercepted before it reached the White House, contain ricin.
"All test results were negative," Reuters quoted U.S. Capitol Police as saying over the public address system in Senate office buildings.
The Hart and Russell Senate buildings, which were shut down following reports of suspicious packages being sent to the offices, were reopened after tests indicated that there was no threat.
The FBI had earlier said in a statement that a "letter containing a granular substance that preliminarily tested positive for ricin was received at an offsite mail screening facility."
However, they said that a full analysis need to be performed at an accredited laboratory to ascertain the presence of ricin and that "there is no indication of a connection to the attack in Boston" that killed three people and injured many at a marathon on Monday.
Authorities had recently intercepted a package mailed to Mississippi Senator Roger Wicker which was tested positive for poisonous ricin.
The letters have a phrase "To see a wrong and not expose it, is to become a silent partner to its continuance" and signed, "I am KC and I approve this message", reported Fox News quoting an FBI bulletin.
The letters were intercepted by the Secret Service amid reports of suspicious packages being found at various Capitol Hill office buildings. Fox News reported that suspicious packages were found at offices of Michigan Senator Carl Levin, Senator Jeff Flake and Senator John Cornyn.
Authorities have not revealed the suspect but Senator Claire McCaskill said after a briefing with law enforcement on the Boston blasts that "The person that is a suspect writes a lot of letters to members."
What is ricin?
According to MedicineNet.com, ricin is a potent protein toxin made from the waste left over from processing castor beans. The castor plant, which is called Ricinus communis, is found throughout the world and is fairly easy to extract. It can be in the form of a powder, mist, pellet, or it can be dissolved in water or weak acid. It is quite stable and is not affected much by extreme conditions such as very hot or very cold temperatures.
Ricin is extremely toxic by several routes of exposure. When inhaled as a small particle aerosol, this toxin can produce pathologic changes within eight hours and severe respiratory symptoms, followed by acute hypoxic (low oxygen) respiratory failure within 36-72 hours. When ingested, ricin causes severe gastrointestinal symptoms followed by vascular collapse and death, according to the site.