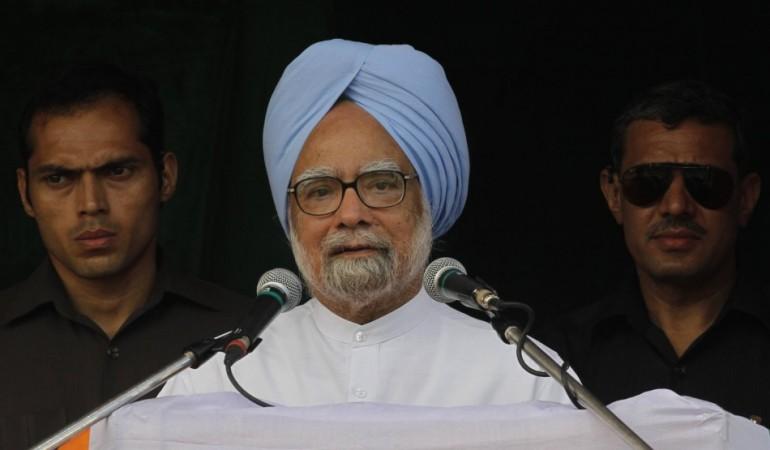 Indian Prime Minister Manmohan Singh on Tuesday met Nobel laureate and opposition leader Aung San Suu Kyi at Sedonia Hotel in Yangon, Myanmar.
Singh, who is the first Indian PM in last 25 years to visit the neighboring country, held discussions with Suu Kyi for about 45 minutes, during which he gave her an invitation from UPA chairperson Sonia Gandhi to visit India to deliver the next Jawaharlal Nehru memorial lecture, The Hindu reported.
Accepting the invite, Suu Kyi said: "I hope I will be able to take up the invitation not before too long."
Her unrelenting fight is instrumental in bringing back democracy in the nation which only witnessed military rule for decades.
"India and Burma have been friends not only because of geographical proximity but also because of shared values, heritage and fight for independence," she said.
Singh said: "We in India are very proud of the very long-standing association with her (Aung San Suu Kyi) and the members of her family," adding that her "struggle and her determination has inspired millions of people all over the world," according to The Hindu.
On Monday, at the banquet hosted by Myanmar President U Thein Sein, the PM said, "We have signed (and) have put in place a roadmap for the rapid development of our relations in the years ahead."
"There are many areas where our two countries can enhance cooperation to our mutual benefit. With its unique geographic location, Myanmar can be a bridge linking South and South East Asia to East Asia. There is much untapped potential in our economic relationship," he said.
Singh asserted in his public address that, "We need to promote more exchanges among our parliamentarians, academics, scientists, artists and intellectuals," adding that "There is so much we can rediscover and learn from each other's culture and society."
"This will build on the firm foundations laid during your highly successful visit to India last year," he said.
"India and Myanmar are natural partners, linked by geography and history. Since time immemorial, trade, people and ideas have flowed between our lands."
The Prime Minister will also visit the Shwedagon Pagoda and the mausoleum of Emperor Bahadur Shah Zafar on Tuesday to pay his respects to the shared heritage of the neighboring countries.
"The teachings of Lord Buddha have inspired generations of scholars, monks, pilgrims and common people in both our countries for almost two millennia," he said.
"The people of India stand ready to support your efforts to create a democratic, stable and prosperous Myanmar," he stated.
The PM quoted the words of India's first Prime Minister Pandit Jawaharlal Nehru on the occasion of Myanmar's independence in 1948.
He said, "As in the past, so in the future, the people of India will stand shoulder to shoulder with the people of Burma, and whether we have to share good fortune or ill fortune, we shall share it together."
(With inputs from IBNS)