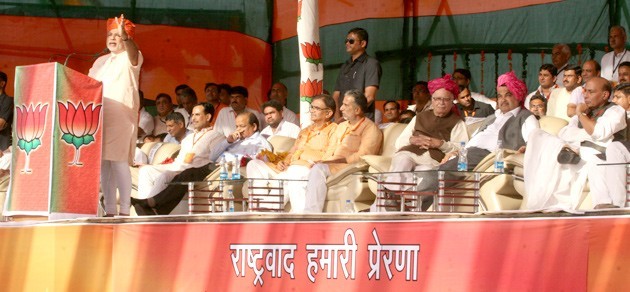 Gujarat Chief Minister Narendra Modi took Prime Minister Manmohan Singh and Congress to task over the controversial Foreign Direct Investment (FDI) reforms on Friday in a BJP public meeting.
Modi came down heavily on the PM for easing the FDI norms for foreign chains to claim larger stakes in the domestic retail sector, while accusing him of giving more importance to the interests of foreigners than that of his own countrymen.
"Why can't PM become Singham for India rather than being so in the interest of foreigners!," Modi said.
He targeted Manmohan for FDI reforms, while referring to the nuclear deal in 2008. He reportedly questioned on why Singh turns active when the US holds polls. He also alleged whether "UPA Chairperson Sonia Gandhi's trip to America has anything to do with the decision on FDI in retail."
Modi said that the PM's nuclear deal with US in 2008 and the reforms on FDI came in the backdrop of the presidential elections in the US, questioning if there is any connection between the two.
Highlighting the developments in Gujarat under his rule, Modi said that "the tea in the Prime Minister's residence would contain milk from Gujarat."
The BJP public meeting was held after the conclusion of the party's third day of the national executive meet, which was attended by top leaders and chief ministers of the party.