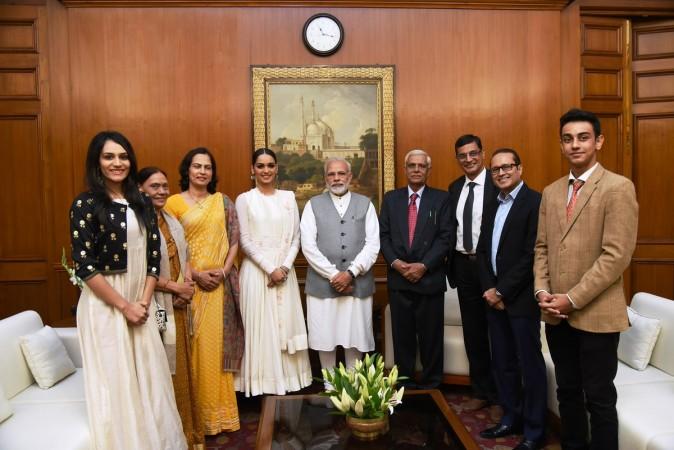 Newly-crowned Miss World Manushi Chhillar, who has already earned heaps of applause from her fans and followers, has now been praised by Prime Minister Narendra Modi.
Chillar, who was dressed in a simple and elegant white anarkali suit, met Modi on Thursday along with her parents.
The 20-year-old Manushi, who is pursuing medicine, also discussed importance of medical education and menstrual hygiene as well.
Modi says Manushi made India proud
According to Manushi's father Mitra Basu Chhillar, the PM said that she had made India proud.
"Beti ne Bharat ka naam roshan kiya hai (Our daughter has made India proud).'' Modi was quoted as saying by the Times of India.
When Manushi told the PM about her campaign called Project Shakti, which focuses on improving menstrual hygiene for women in India, Modi commended her work.
"The PM also felt Manushi's win and her vision would have a positive impact on medical education,'' Mitra Basu said while adding that Manushi assured Modi that she would work towards fulfilling her vision.
In fact Modi too assured her that he would help her in helping the women of India.
"He assured us that if ever Manushi needs the help of the Prime Minister's Office in her work, she should reach out to the PM,'' her father said.
Not only were Manushi's parents, grandparents, brother and sister elated by Modi's words of encouragement but the PM also seemed happy with the meeting.
"Met @ManushiChhillar and her family today. Congratulated her on her accomplishment," Modi tweeted
Haryana CM also proud of Miss World 2017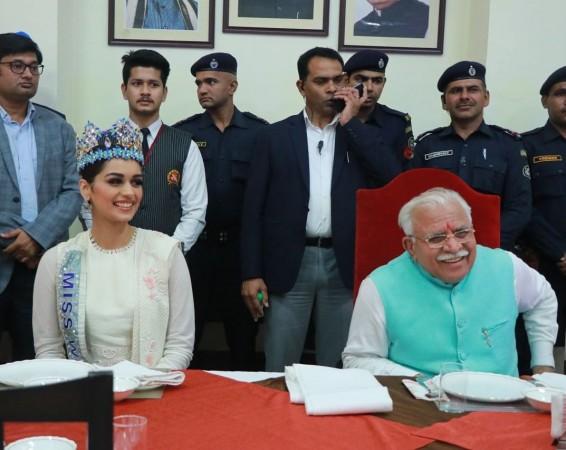 The Miss World also met Haryana Chief Minister Manohar Lal Khattar on Thursday.
The CM also commended Manushi for her victory in the Miss World beauty pageant.
"Proud moment for Haryana. She chose to come to Kurukshetra first during the Gita Mahotsav and I appreciate that. I also admire her final response regarding motherhood," said Khattar.
He also added that Chhillar would be appointed brand ambassador to promote anaemia-free Haryana, a campaign to help spread health awareness amongst young women.