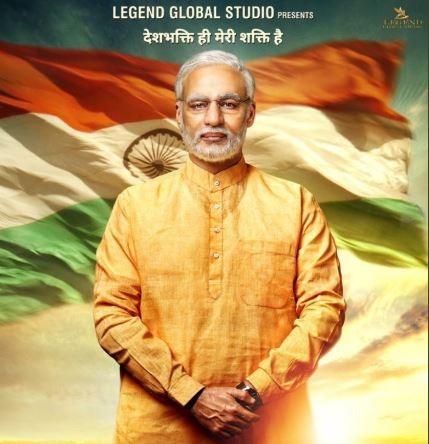 Is Politics the new genre? After the trailer of The Accidental Prime Minister (based on former Prime Minister Manmohan Singh) and Thackrey (based on the late Shiv Sena supremo Bal Thackeray), announcement of yet another political drama has hit social media. Based on the present Prime Minister of India, Narendra Modi, the film's first poster was released on Monday.
And who is playing Modi? It's Vivek Oberoi. The poster has "Deshbhakti Hi Meri Shakti Hai (Patriotism is my power)" written on it. Titled PM Narendra Modi, the film will be directed by Omung Kumar, who has earlier directed biopics like Sarbjit and Mary Kom.
Maharashtra chief minister Devendra Fadnavis unveiled the poster at South Mumbai's Garware Club House in 23 languages. He wrote on Twitter: "This is film is set to create history today with the poster launch of a film based on the life of world leader born in India, a RajYogi in true sense! Congratulations to this team who is going to be a winning team, eventually !"
From his looks to taking a dig at Salman Khan, here's how social media users reacted:
Vivek Oberoi to play #PMNarendraModi in his biopic

This is the same guy who compared his character in Krrish 3 with The Legendary JOKER

I would rather waste 2 hours watching Arnab Goswami screaming on TV (on MUTE) instead of paying & watching Vivek Oberoi's mockery pic.twitter.com/BDVyUppoUj

— Freaky ~ DRaval (@HODL_till_2140) January 7, 2019
kurta to press kar lia hota bhai??

— Sushant Agarwal?? (@sushant_ddn) January 7, 2019
Vivek said, "Today I'm feeling like how I felt 16 years ago when I started working on Company. I'm feeling the same excitement, same hunger because this kind of a role is a once in a lifetime experience for any actor. I truly believe that at the end of the journey I shall become a better actor and human being."
He also added, "Narendra Bhai is one of the tallest leaders not just in this country, but in the world. I think to bring him alive onscreen, to bring his persona, to bring his inspirational qualities onscreen is an incredible challenge."
Omung Kumar, the director said, "This is one of the most difficult and challenging role that I will be playing in my career, because to direct a film—the biopic of a man who is one of the prolific leaders in the history of India—is the most challenging thing a director could do."
Producer Suresh Oberoi also shared his happiness and said: "It's the good fortune of Vivek Anand Oberoi that he is playing the role of a karm-yogi, a great leader, who has been accepted by not just India but the whole world. Vivek is very hardworking and I am sure all of them will make an evergreen film."
Co-producer Sandip Ssingh also added, "We were very scared to conceive this film. Once we did that, I went to Vivek Oberoi, whom I have known for 18 years. I told him there is a thought which is impossible but if we do it together, it is possible. And he replied, 'Yes, I am doing. We will meet in the evening.' Since then, we, along with our writers, have worked every evening to make it possible."
According to a Bollywood Hungama report, the film is going to be shot extensively in several parts of the country, from Modi's hometown in Gujarat to Delhi, Uttarakhand and Himachal Pradesh. The film is produced by Vivek Oberoi's father Suresh Oberoi and Sandip Ssingh. The first schedule will begin in mid-January.