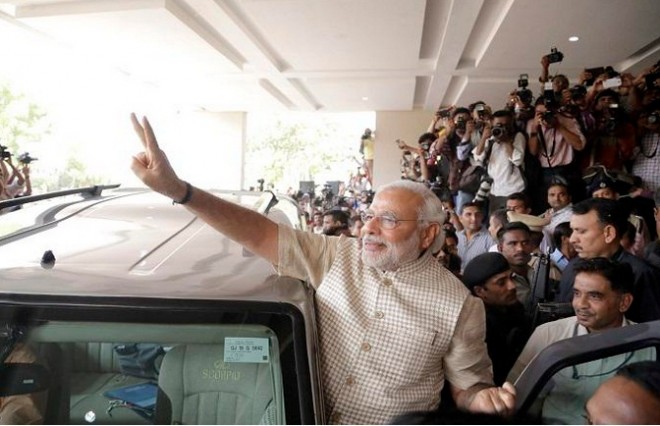 Already criticised for slow pace of reforms in the first year, chances for Narendra Modi government to expedite the execution of its reforms agenda look bleak in the second year too because of "political compulsions", said a global brokerage firm.
"We expect the pace of reforms to be gradual, given the political hurdles around big bang reforms," Nomura said in a note to The Economic Times.
"However, broad direction for the reform process will continue to be "positive" in the second year as well."
Highlighting the achievements of his government in the first year, Prime Minister Narendra Modi drew focus on higher growth and easing inflation, but experts see Modi facing challenges on both the fronts in the coming months.
The assembly elections scheduled in states such as Bihar, West Bengal and Tamil Nadu in the coming months are expected to curtail the 'reform appetite' of the Modi government, as it has to win these elections in order to increase its numbers in the Rajya Sabha.
Bihar's assembly polls will have an impact on the government's reforms agenda, said Bank of America Merrill Lynch in a note to NDTV Profit.
The government has been forced to delay the landmark Goods and Services Tax (GST) Bill until at least July, after facing strong opposition in the Rajya Sabha, where it does not have a majority.
Recently, overseas investors and domestic industrialists have started criticising the Modi-led government for being slow on initiating reforms even after completing one year in office. Some of them even said that the government is talking more and doing nothing.
The report expects the government to pass the pending bills such as GST and new land acquisition bill, both of which got delayed due to resistance from Opposition parties.
The Japanese brokerage sees the Parliament passing new land acquisition law by September and GST by December this year.
"Restarting investment is a key and the administration will focus on resolving current issues plaguing existing frameworks such as PPPs model or existing investors such as in road projects," it added.
It expects Finance Minister Arun Jaitley to 'drive GST implementation' and appoint a committee to make recommendations on changes to Companies Act.
"Railway Minister Suresh Prabhu is expected to have a busy year with works like setting up a regulator for the Railways, tapping newer areas across the globe to finance rail projects, state level collaborations for projects and work on the dream of having high-speed bullet trains," it added.