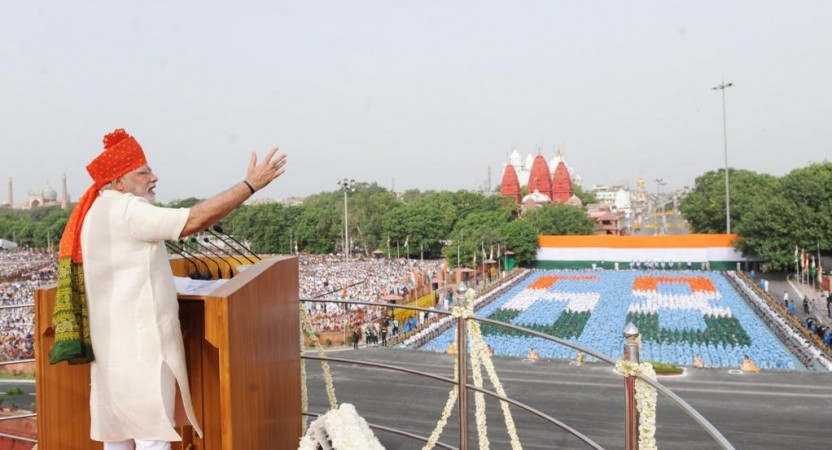 India's Independence Day was heralded with much enthusiasm and regale, mostly owing to the new Prime Minister. Whether you love him or hate it, it is impossible to ignore Narendra Modi. His prowess as an orator has been proven time and again, and his prime ministerial address at the Red Fort was no different. The speech has become the favourite topic of conversation and posts on Twitter in just a couple of hours.
At least a week prior to 15 August, most Indians have been changing the display pictures on their WhatsApp and Facebook profiles to the Indian flag, heralding the 68th Independence Day of India. Twitter has also been flooded with posts of Independence Day wishes and their hopes and aspirations for a better India.
"Lets celebrate the spirit of patriotism, salute the soldiers who comfort us a good sleep each night sacrificing theirs #HappyIndependenceDay," posted Aditi
"Freedom in our mind, faith in our words, pride in our souls... #HappyIndependenceDay to everyone.Jai Hind #India68," wished Prasenjit Das.
"No rape, no crime, no corruption, no poverty, no scams...... It's a Dream of better, prosperous and united India. #HappyIndependenceDay" posted Govind Raval.
"Wishing a very happy Independence day to all my Indian brothers and sisters across the globe. #HappyIndependenceDay pic.twitter.com/2l5faDzlTv" wished Sunil Sharma from Queens, New York.
Meanwhile, the showstopper of this year's Independence Day, is undobutedly Prime Minister Modi. His address at the Red Fort has inspired many and put off a few, but no one can seem to stop talking about it. News channels are dissecting it, while the common public is tweeting about it.
If nothing else, this year's Prime Ministerial address has made an impact, and many who heard it are impressed and promised to back Modi's vision for India in the coming days.
"So aftr 10 years the PM instead of jst providng knwn historical facts, delivers a vision fr d future & a message 2 d citizens. #ModiSpeech," posted an impressed Karan Bhatt.
"it was not #Modi in #ModiSpeech today..but #GoddessSarswati..sitting at edge of his tongue..." praised Ashok Garekar.
There were a few who felt that Modi has deviated from some of the promises he made during the elections.
"Corruption, black money were just election issues? No longer of concern? Why no talk of passing anti-corruption laws? #ModiSpeech" asks Sucharita Monhanty.
Modi garnered much accolade from the crowd present and those who tuned in, when he initiated his speech with, "Mein aapke saamne Pradhan Manthri ke roop mein nahi, pradhan sevak ke roop mein upassthit hoon." (I am standing before you, not as the Prime Minister of the nation, but as the Prime Servant).
"In extempore Independence Day address, Hon'ble @narendramodi Ji calls himself Pradhan Sevak who wants to rule via consensus @anilkumardhir," posted Murali Sharma.
Overall, the speech touched on some of the pressing issues India is facing, especially, rape, female foeticide, need for exporting more Indian products and reducing imports (Make in India), need to move towards digital India, communalism and cast violence, need to increase tourism possibilities, need for cleanliess and the need for more womens' toilets.
He also announced a new scheme for villages, "Sansad Adarsh Gram Yojana", insisting that for the development of India, the villages have to develop first and said that he hoped the MPs would make at least one village ideal by the year 2016.
Modi is also looking forward to working with all the South Asian Association for Regional Cooperation (SAARC) nations and eradicate poverty and also hinted that he would soon bring in a new replacement for the Planning Commission.
The speech has been successful in energising the public, and Twitter universe has been talking about it non-stop. #ModiAtRedFort, #ModiSpeech, #NamoAtRedFort, #ModiSpeech, Pradhan Sevak and so on have been trending on the micro blogging site.
"#NamoAtRedFort Vision, Conviction, Passion for development, Love for the Country. Amazing extempore #ModiSpeech" an elated Rashminp posted.
"as a woman 10/10 for #ModiSpeech #NaMoatRedfort For the first time PM speaks directly about women safety from Red Fort" posted Nandita Thhakur
Auditor Dinesh said, "Our Mantra to the world should be "MAKE IN INDIA" which is better than FII in Shares with quick encashment that too tax free #ModiAtRedFort".
However, Gaurav Kapoor reminded everyone, "I remember when Rahul said, watches made in Mirzapur, people made so much fun & now Modi says Make in India & people are jubilant :-)"
Here is a video of the India's 68th Independence Day celebrations, along with PM Modi's address at the Red Fort live streamed by the PMO's YouTube channel.