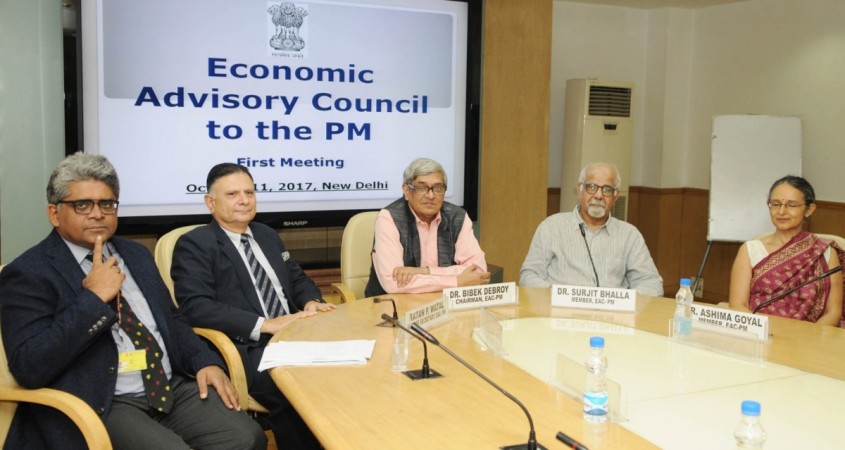 The Economic Advisory Council to the Prime Minister (EAC-PM), in first meeting on Wednesday, zeroed in on 10 key areas to work on for reviving economic growth and spur employment.
Prime Minister Narendra Modi reconstituted the economic advisory council (EAC) on September 25, and appointed NITI Aayog member Bibek Debroy as the chairman of the council, amid the slowdown of the Indian economy.
The council indentified issues like economic growth, employment and job creation, informal sector and integration, fiscal framework, monetary policy, public expenditure, institutions of economic governance, agriculture and animal husbandry, patterns of consumption and production and social sector, reported the Times of India.
After the conclusion of meeting, Debroy told reporters: "We will come out with implementable solutions for economic problems and present them to the prime minister."
The advisory council opined that maintaining a fiscal consolidation roadmap is important, and warned the government against going for a stimulus at the cost of fiscal prudence.
"There is a consensus (among the members)... that the fiscal consolidation exercise should not be deviated from," Debroy said. When asked about lack of jobs, he said there was no reliable data available and the panel would examine the issue.
After the Gross Domestic Product (GDP) figures for the June-ended quarter surfaced on August 31, revealing that growth had slipped to a three-year low at 5.7 percent, many policymakers and economists had called for a fiscal stimulus to revive growth.
The EAC's stance on fiscal stimulus contradicts NITI Aayog vice-chairman views who said that the economy will do well with a fiscal stimulus and there will be no harm even if the country fails to meet the fiscal deficit target.
NITI Aayog vice-chairman Rajiv Kumar had on September 30 told India Today in an interview that India needed an investment-led fiscal stimulus and public expenditure must be raised to trigger growth in the economy.
Over the next one month, the EAC is likely to work on various issues in a time bound manner to bring economic stability.
The council is to prepare a detailed report on the economic growth in the coming months after consultations with sectoral ministries, states, experts, institutions, private sector and other key stakeholders, the government said in a statement after the meeting.
Chief Economic Advisor (CEA) to the government, Arvind Subramanian, has already given the EAC members a presentation on the economy.
Meanwhile, international financial institutions have lowered India's economic growth forcast for the current fiscal.
The International Monetary Fund (IMF) has lowered India's growth forecast for the current fiscal by 0.5 percentage points to 6.7 percent. On the other hand, World Bank has slashed economic projection to 7 percent, down from 7.2 percent earlier.
Earlier this month, in its bi-monthly monetary policy, the Reserve Bank of India (RBI) lowered the country's growth outlook for the current year from 7.3 percent to 6.7 percent.