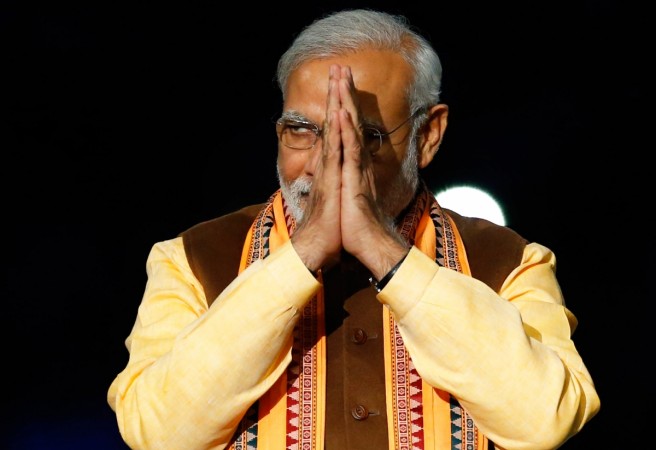 When Indian Prime Minister Narendra Modi lands in Bangladesh on Saturday, it will be historic, as he will be the first incumbent PM to visit the country after the settlement of the four-decade-long boundary dispute between the two neighbours.
His visit comes a month after his government successfully resolved the 41-year-old dispute over the 4,000-km shared border between India and Bangladesh, through the Land Boundary Agreement (LBA).
West Bengal Chief Minister Mamata Banerjee will accompany Modi in Bangladesh.
This will also be Modi's first trip to the neighbouring nation after coming to power last May.
During the bilateral talks between Modi and Bangladeshi Prime Minister Sheikh Hasina, the security situation on the border, human trafficking and drug smuggling along the border, and the resolution of the problem of enclaves are expected to figure prominently.
Also in focus will be a coastal shipping agreement and a cooperative arrangement in the telecom sector, among others.
Indian foreign secretary S Jaishankar has described Modi's upcoming visit as 'historic' following the conclusion of the Land Boundary Agreement.
"With the settlement of the land boundary, and the earlier settlement of our maritime boundary, we have completely settled our boundary with Bangladesh, and that is, for a neighbour, an extremely important development," he said on Friday.
Here is PM Modi's schedule for his Bangladesh trip that will last about 36 hours:
6 June:
Modi will arrive in Dhaka on Saturday morning, where he will receive a ceremonial welcome.
He will then visit the National Martyrs' Memorial, followed by a visit to the Bangabandhu Memorial Museum.
PM Modi will then flag off two important bus services - one from Shillong to Dhaka via Guwahati and another from Kolkata to Dhaka via Agartala.
There will then be a ceremony for the exchange of instruments of gratification of the LBA, followed by talks between Modi and Hasina, and exchange of agreements.
Bangladeshi Prime Minister Sheikh Hasina will host a dinner for Modi on Saturday night.
7 June
On Sunday, Modi will visit the Dhakeshwari National temple, the Ramakrishna Mission, and the new chancery complex in Dhaka.
He will meet the President of Bangladesh Abdul Hamid over lunch.
Modi will interact with Bangladeshis at the Bangabandhu International Conference Center before leaving for India.
Here's how you can follow Modi's Bangladesh trip:
To be updated about Modi's trip in Bangladesh, the best way is to track Modi's personal Twitter account and that of the Prime Minister's Office.
MEA spokesperson Vikas Swarup will also make updates through his official Twitter account.
You can also follow news from the ground on Bangladeshi media , such as the Dhaka Tribune and The Daily Star.
To watch Modi live in action in Bangladesh, follow the YouTube channels of PMO India and the Ministry of External Affairs.