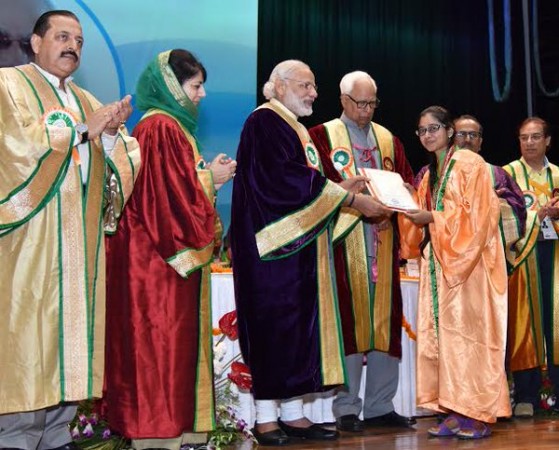 Prime Minister Narendra Modi on Tuesday sought to calm the tempers in the troubled Jammu and Kashmir (J&K) by reaching out to the youth of the state.
J&K has been on the edge after the state witnessed massive protests last week over the alleged killings of some youths by the Army in North Kashmir. Earlier, few student groups clashed over a cricket match in National Institute of Technology (NIT), Srinagar, followed by the police allegedly using force against students.
Speaking at the convocation ceremony at the Mata Vaishno Devi University, Jammu, the prime minister referred to J&K as mini India where people from all the faiths co-existed. "There is a mini-India in Jammu and Kashmir. Dream to do something and not to become someone," Modi said.
He was accompanied by J&K Chief Minister Mehbooba Mufti, Union minister of state in prime minister's office, Jitendra Singh, and J&K Governor NN Vohra.
The prime minister made several references to the youth who are successful sportspersons and have brought laurels to the country.
"Just yesterday a daughter of India brought fame to the country by qualifying for the Rio Olympics," he said while referring to Dipa Karmakar, the first Indian woman gymnast to qualify for an Olympics.
He further said the youth should internalise the sportsmanship spirit of not only playing together but living together. He urged the J&K youth to participate in the development initiatives of the country.
"With 800 million youths, India can achieve more heights and will rule the 21st century, which is the era of knowledge," the prime minister said.
Modi told the students that they need to work hard to achieve what their parents have dreamed of. "Forget what could you not achieve, instead think of what you have achieved .Recall what your parents did for you. They sacrificed their own happiness for yours," he added.
Modi also inaugurated a super speciality hospital and a sports complex in Katra town of Jammu, where he addressed a public meeting.
He invoked the former prime minister Atal Bihari Vajpayee's message of "Insaaniyat, Kashmiriyat and Jhamooriyat" ( humanity, secularism and democracy) and said that J&K needs development to participate in the nation's progress.
"The state is blessed with pleasant weather which makes it an apt destination for medical tourism," Modi said after the inauguration of 250-bedded super speciality state-of-the-art hospital set up by the Shri Mata Vaishno Devi Shrine Board with an investment of Rs. 300 crore at Kakryal near Katra.