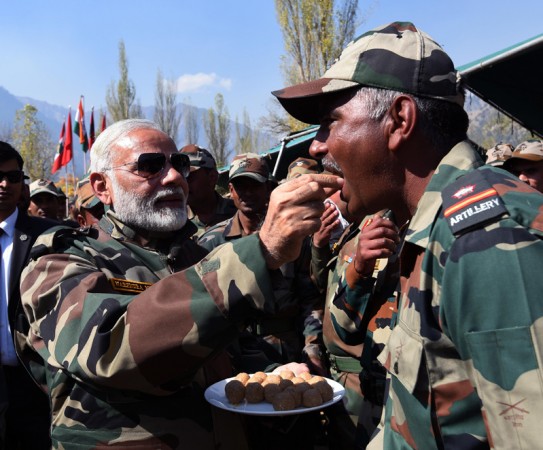 PM Narendra Modi on Thursday, October 19, celebrated Diwali with personnel of Indian Army and Border Security Force in Kashmir's Gurez sector and reiterated the government's resolve to implement One Rank One Pension (OROP). The armed forces personnel have long been demanding equal pension to all in the forces regardless of rank, date of retirement and years of service.
"Glad to have celebrated Diwali with our brave Army and BSF jawans in the Gurez Valley, Jammu and Kashmir," said Prime Minster Narendra Modi, who was accompanied by Indian Army chief, Bipin Rawat. The Army chief has been camping in the Gurez valley with the jawans along the Line of Control (LOC).
PM Modi spent joyous moments with the personnel and exchanged sweets with the Army and BSF jawans. Expressing his joy, PM said that he too wished to spend Diwali with his family and that was why he came to Gurez to meet the jawans, whom he considered his family. The Gurez sector is the gateway to Gilgit-Baltistan region near Himalayan ranges.
After his visit PM Modi tweeted, "Spending time with our forces gives me new energy. We exchanged sweets and interacted. Happy to know the jawans practice yoga regularly."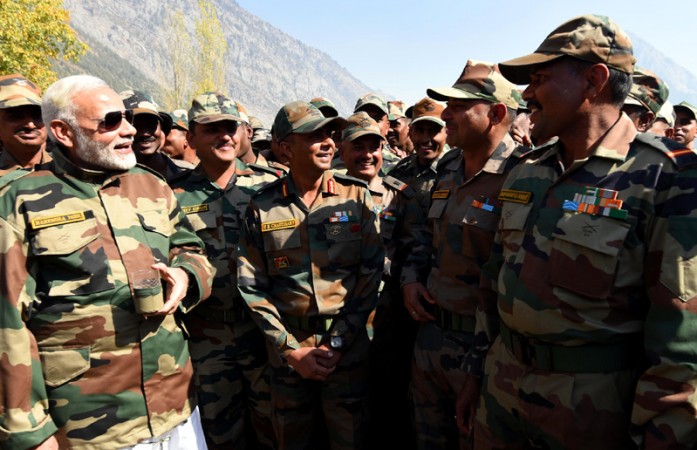 "The jawans who leave Armed Forces after completing their duty tenure, can become excellent yoga trainers subsequently," Modi added.
Northern Command chief Lt General Devraj Anbu and Chinar Corps Commander Lt Gen J S Sandhu were also present while Modi addressed the jawans, an Army official said.
Since Modi took over as the 14th Prime Minster of India, he has chosen to celebrate Diwali with the defence forces. In 2014, Modi celebrated the festival with security personals in Siachen and in 2016 he spent the day of Diwali with ITBP jawans in Himanchal Pradesh and Punjab.