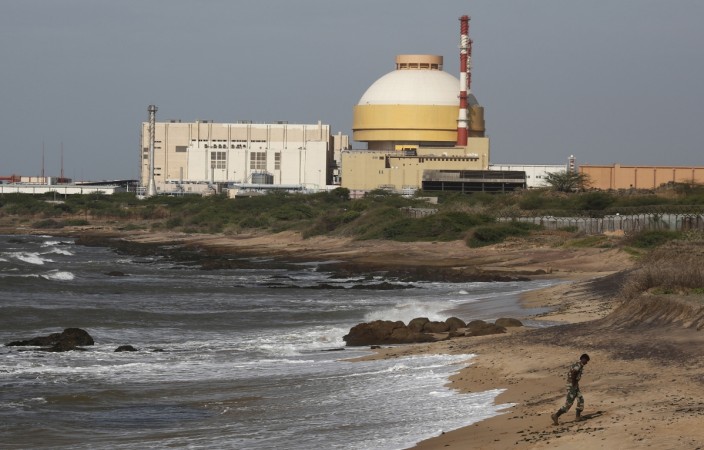 The Kudankulam nuclear plant in Tamil Nadu may soon be one of the biggest in the world after the foundations for Unit 3 and 4 are laid on Saturday and MoUs for Unit 5 and 6 are signed. Prime Minister Narendra Modi and Russian President Vladimir Putin inaugurated Unit 3 and 4 via video-conferencing from Goa, where Putin has arrived for the Brics Summit.
Once the plant reaches full capacity it will share the fifth position in terms of power generation with Zaporizhzhia Nuclear Power Plant, Ukraine. The Ukraine plant already generates a net capacity of 5,700MW and a gross capacity of 6,000MW. Once completely set up, the Kudankulam plant will generate 6,000 MW of power as well. The Tamil Nadu plant will be the biggest in South Asia once it reaches full capacity.
"The foundation as well as 'first pour' of concrete for Units 3 and 4 and a ceremony of inauguration of Unit 2 will be done on Saturday in the presence of Rosatom chief Alexey Likhachev, the regulatory body of the Russian nuclear complex, Nuclear Power Corporation of India (NPCIL) chief S K Sharma and others," Kudankulam site director R S Sundar told the Times of India.
Currently, the Tamil Nadu plant has a capacity of 2,000 MW and stands at the 10th position in terms of power generation.
"Before Unit 1 was set up, many of our nuclear engineers visited Zaporizhia to know about the working of VVER reactor as it was new to India.Like Kudankulam, Zaporizhia is also close to the sea and the entire area is lit up with six reactor domes and it is a sight to see," said former Atomic Energy Commission chairman M R Srinivasan.
The nuclear reactors for unit 3 and 4 are expected to be delivered by Russian state nuclear corporation Rosatom between 2016 and 2018. The approved cost for the project is Rs 39,747 crore, which was stated in the Lok Sabha in 2014. However, reaching full capacity may take years and it may go way over its estimated budget as seen while setting up the first two units.