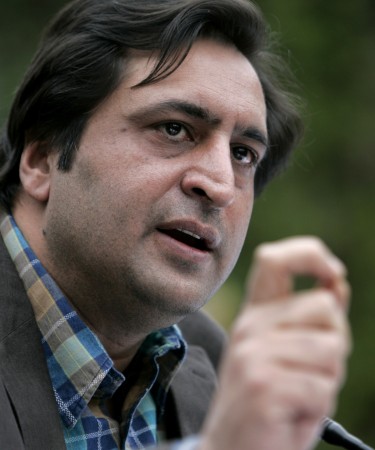 With less than two weeks to go before the assembly election in Jammu and Kashmir begins, an unlikely meeting between Prime Minister Narendra Modi and former Kashmir separatist Sajjad Lone has raised eyebrows over a possible alliance.
Adding fuel to the rumour is the fact that Lone is said to be reviving the People's Conference, a party that was founded by his father Abul Lone, and the party is contesting in at least 12 seats in the Kupwara and Handwara sectors, Press Trust of India reported.
With the Bharatiya Janata Party looking to bring Kashmir under its belt of saffron-ruled states, the meeting sparked rumours of an alliance to edge out competition from the People's Democratic Party, the National Conference and the Congress.
Lone met Modi at his 7, Race Course Road residence in Delhi on Monday, but he later told the media that the two did not discuss politics.
"I met Prime Minister Modi as a Kashmiri and discussed the relief work for people who suffered in the Kashmir flood. I had a list of demands that was discussed. There was nothing political," he was quoted as saying by IANS.
However, Lone did not reject the idea of a post-poll alliance with the BJP, stating that "it will be seen after the elections".
Lone's meeting with Modi came after the Kashmir leader met with BJP leader Ram Madhav in Srinagar earlier, and the latter had also hinted of a possibility of an alliance.
"All doors are open for those working for the development of the valley" Madhav had told The Times of India.
Lone also had words of praise for Modi, referring to him as "a great human being".
The BJP has already begun work on its 'Mission 44+' strategy to get majority in the 87-member J&K assembly.
The five-phase election will begin in the state on 25 November and will continue till 20 December.