The third edition of International Yoga Day — also International Day of Yoga and World Yoga Day — is at hand, and Prime Minister Narendra Modi is heading to Uttar Pradesh this time to celebrate his brainchild with more than 50,000 people on Wednesday, June 21.
Also read: International Yoga Day 2017 LIVE updates
And the world will celebrate with him, because the United Nations — at Modi's urging — given its recognition to International Yoga Day and designated June 21 as when it will be celebrated.
The theme this time is "Yoga for Health," and according to the UN, "highlights the fact that yoga can contribute in a holistic way to achieving an equilibrium between mind and body."
On Wednesday, that is what Modi will look to achieve when he performs yoga along with 51,000 others at the Ramabai Ambedkar Maidan — also called the Ramabai Rally Sthal — in Lucknow.
Modi is expected to arrive at the venue by 6:30 am IST, speak on the occasion and perform yoga for an hour with the people till 9 am before leaving.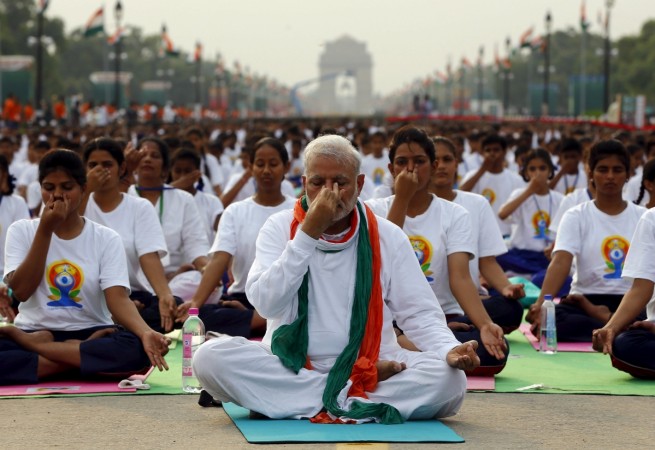 Preparations for the event are currently underway in full swing at the venue. "The place is majestic and arrangements are grand, the entire venue is bedecked in white and orange colour. I also took my mother and sister for rehearsals to give them a glimpse of how it would be like," one Mayuri Sahai — who is slated to perform yoga at the venue with Modi — told the Times of India.
Where to watch
The event will be voice-broadcast live from the venue on All India Radio. It will also be telecast live on Doordarshan National. The live telecast from 6:20 am IST can be seen here:
The event can also be watched live on mobile via the Narendra Modi app. Just go to the "Watch Live" section.