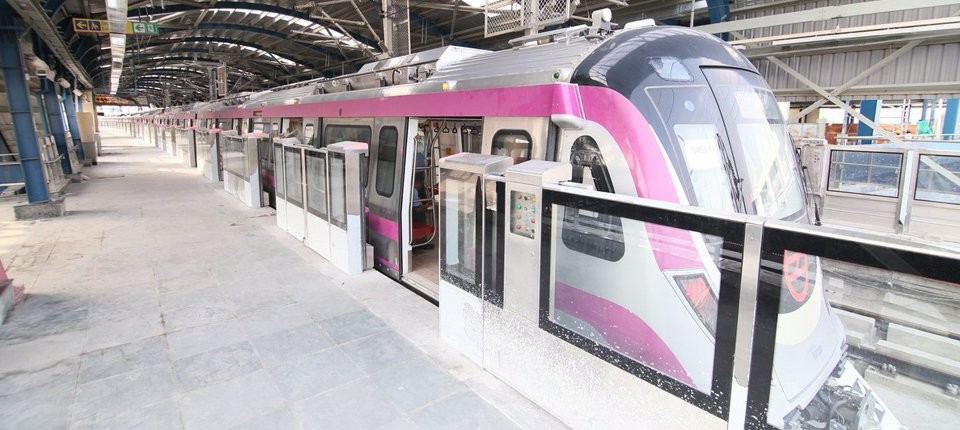 Prime Minister Narendra Modi will inaugurate the much-awaited Delhi Metro Magenta Line, which will directly connect Botanical Garden in Noida to Kalkaji, on December 25.
According to reports, the Delhi Metro Rail Corporation (DMRC) said the prime minister will flag off the metro train from Noida, following which the services will open for commercial operations.
The Magenta Line will be something that the capital can boast of, as it will not only witness the implementation of a few modern technologies but also be beneficial for Delhiites.
Modern technologies
This section of the Delhi Metro will be the model for the first-of-its-kind signalling system, called the Communication Based Train Control (CBTC).
The DMRC is also thinking of employing Unattended Train Operations-enabled trains to ply on the new route. The metro authorities is also said they will eventually employ trains that are driverless.
Though Delhi Metro will be the first in India to use this "driverless train" technology, it will take them about two-three years.
"The inspections had been completed from Commissioner for Metro Rail Safety (CMRS), between November 13-15 and we were given the go ahead. But the final approval was awaited," a source was quoted as saying by The Hindu.
Travel time reduced
The biggest benefit of this direct route is commuters will be able to ply between Kalkaji and the Botanical Garden in Noida in just 19 minutes.
It currently takes 52 minutes to reach Kalkaji from Botanical Garden, as one has to go to Mandi House via the Blue Line and change to Violet Line to reach the destination.
"The Botanical Garden metro station will become the first interchange station outside Delhi. The Kalkaji Mandir station has also been developed as an interchange station and this will help reduce travel time between the Blue and Violet Lines significantly," the DMRC told the English daily.
The metro officials also said that it will increase frequency of trains and reduce the waiting time at platforms to 90 seconds for this new 12.64 km section.