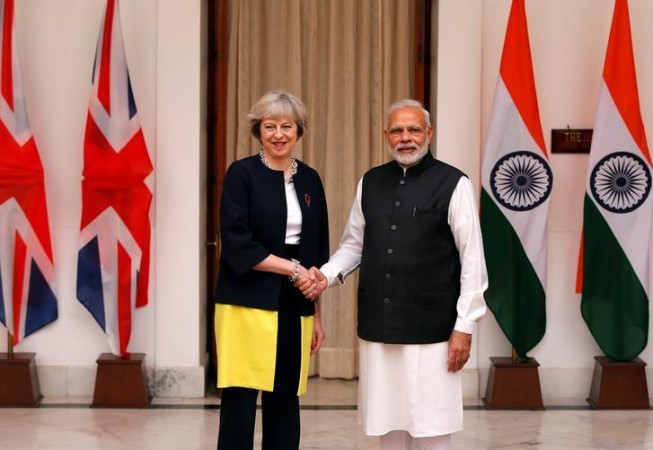 Prime Minister Narendra Modi and his British counterpart Theresa May on Monday agreed to advance business through agreements and exchanged memorandum of understanding (MoU) in ease of doing business and intellectual property.
"We agreed to a Joint Working Group on trade which shouldn't only focus on goods trade, but also services trade, inc. through great mobility for skilled professionals," PM Modi said.
The Prime Minister also invited British companies to build partnerships with Indian enterprises and asked them to take appropriate actions towards countries which sponsor terrorism.
"I encourage British companies to look at the multiple opportunities in Indian defence sector to take strong action against states that support and sponsor terrorism. Looking beyond trade in defence equipment, I invite British companies to build partnership with Indian enterprise," he said.
In a joint statement, PM Modi further highlighted that the meeting between the two leaders gives them reasons to celebrate a "vibrant and strong India-UK partnership."
"In my extensive discussion with PM May we looked at the full range of our partnership. We agreed to touch new dimensions and horizons. We looked at full range of our partnership today, agreed to have new dimensions and initiative to broaden scope of our linkages," PM Modi said.
British PM May said that both the leaders are personally invested in bettering the India-UK relationship. She also focused on extremism and cyber attack in her statement and said that both the countries share a threat of terrorism.
"We both face the shared threat of terrorism as individual countries, as partners, and as global powers. We have agreed to strengthen our cooperation in particular by sharing best practice to tackle use of internet by violent extremists. Both UK and India face an increasing threat of cyber attack from other states, terrorists and criminals operating in cyber space," May said.
The British PM also said that she had agreed with PM Modi to increase the cooperation between the two countries by negotiating a cyber framework.
May is currently on a three-day visit to India to strengthen the bilateral ties between India and UK, particularly in areas like trade, investment, defence and security. This is May's first bilateral visit to a country outside of Europe post Brexit (Britain's exit from the European Union).