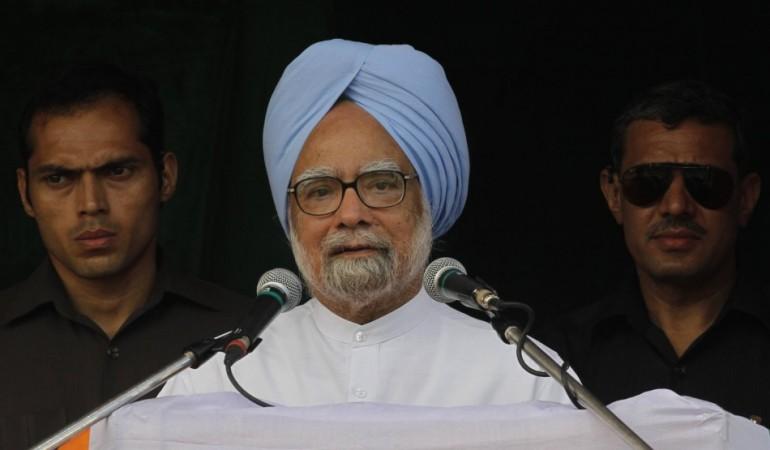 Prime Minister Dr. Manmohan Singh addressed the nation on Friday night, explaining why his government has taken some important economic policy decisions that include diesel price hike and Foreign Direct Investment (FDI) in retail sectors.
The PM's speech came just a day after the National Democratic Alliance (NDA) and other opposition parties called for "Bharat Bandh" to protest the decision of the government to allow up to 51 per cent Foreign Direct Investment (FDI) in retail sector, 49 per cent FDI in domestic carriers and diesel price hike by ₹5.
In his speech, the PM stressed the need for stern steps to boost India's economic growth rate, as the country too has been affected by the global economic slowdown that has badly affected countries like United States and Europe.
The government's economic reforms came in light of India's staggering GDP growth which slipped to 5.5 percent from 8 percent in the corresponding period last year.
On Diesel Price Hike and Cap on LPG Cylinders
Dr. Manmohan Singh said that it is inevitable to hike diesel price as the country "import almost 80% of our oil, and oil prices in the world market have increased sharply in the past four years."
"As a result, the subsidy on petroleum products has grown enormously. It was Rs. 1 lakh 40 thousand crores last year. If we had not acted, it would have been over Rs. 200,000 crores this year."
The PM said that fiscal deficit will increase sharply if the government doesn't take proper step. If unchecked, this would lead to a further steep rise in prices and a loss of confidence in the country's economy.
"We raised the price of diesel by just Rs. 5 per litre instead of the Rs 17 that was needed to cut all losses on diesel. Much of diesel is used by big cars and SUVs owned by the rich and by factories and businesses. Should government run large fiscal deficits to subsidise them?" said the PM.
On the decision of the government to cap subsidised LPG cylinders to 6 per year, the PM said, "almost half of our people, who need our help the most, actually use only 6 cylinders or less. We have ensured they are not affected. Others will still get 6 subsidised cylinders, but they must pay a higher price for more. We did not touch the price of kerosene which is consumed by the poor."
Highlighting that the prices of diesel and LPG in the country are lower than those in Bangladesh, Nepal, Sri Lanka and Pakistan, the PM said that the total subsidy on petroleum products will still be Rs.160 thousand crores, which is more than what the country spends on Health and Education put together.
On FDI in Retail Sector
The PM said that there is enough space for big and small to grow in a growing economy and the fear that small retailers will be wiped out is completely baseless.
"We should also remember that the opening of organised retail to foreign investment will benefit our farmers. According to the regulations we have introduced, those who bring FDI have to invest 50% of their money in building new warehouses, cold-storages, and modern transport systems. This will help to ensure that a third of our fruits and vegetables, which at present are wasted because of storage and transit losses, actually reach the consumer. Wastage will go down; prices paid to farmers will go up; and prices paid by consumers will go down," said the PM.
He went on to say that the growth of organised retail trade will also create millions of good quality new jobs.
"In 1991, when we opened India to foreign investment in manufacturing, many were worried. But today, Indian companies are competing effectively both at home and abroad, and they are investing around the world. More importantly, foreign companies are creating jobs for our youth - in Information Technology, in steel, and in the auto industry. I am sure this will happen in retail trade as well," he said.
The PM however said that he can succeed in keeping India away from economic crisis only if he can persuade the people of the country to understand why his government had to act.