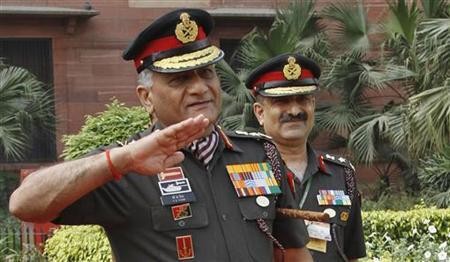 Prime Minister Manmohan Singh, Indian Army and the Defence Ministry have rubbished the media report that two Indian army units moved towards New Delhi in January without the knowledge of the government.
Just a few hours after the Indian Express published the story of the army's suspicious movement, the PM issued a statement urging the people not to take media reports on face value. "The Army Chief's office is an exalted office and nothing should be done to lower its dignity," he said.
The Indian Express reported that two Indian army units - the 33rd Armoured Division based 150 km (90 miles) from Delhi and the 50 Para brigade based in Agra - moved towards Delhi on January 16 night without notifying the government. It apparently happened when Army Chief General VK Singh was having row with the government over his age controversy.
However, the Indian army denied the media report of its unusual movement.
"Routine training at the formation level is carried out to check mobilisation according to standard operating procedure. Almost all army units carry out this procedure at regular intervals. Once effectiveness is checked, the troops are called back. In this case too the troops were called back according to sop. In case of adverse weather conditions like fog we need to test our mobilisation effectiveness," CNN IBN quoted the statement of the Army.
Saying that the Indian armed forces will never do things that will undermine democracy, Defence Minister AK Antony asked the media not to create unnecessary controversies.
"It is my humble request, on the issues of national security and the Indian armed forces; we can't take the luxuries of controversies. I request all to honour and respect the dignity of the armed forces," said Antony.