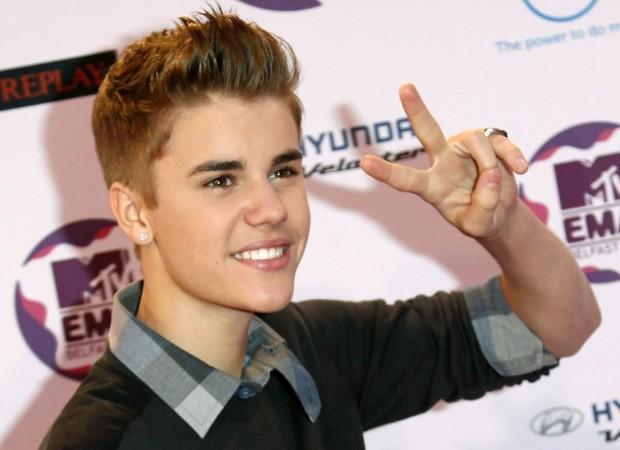 Cops have reportedly foiled a plot to kill teen singing sensation Justin Bieber, who was recently honoured with three American Music Awards, and two men, who were supposed to carry out the murder, have been arrested.
It is reported that Mark Staake and his nephew Tanner Ruane were hired to kill the "Baby" singer by Dana Martin, who is serving in prison for rape and murder case. Police claimed that the duo met the prisoner at Las Cruces prison in New Mexico.
The police claimed that the duo were hired to kill the superstar by strangling him with a necktie and a pair of pruning sheers were found in the car of one of the men arrested. The plot to kill the Canadian singer was planned to take place during his concert in New York last month.
It is reported that the police have got the conversation between the men on phone including that of Mr. Ruane telling Martin that the plan to kill Justin Bieber had failed.
Martin, who is said to be obsessed with the 18-year-old singer and even has a tattoo of him, had reportedly ordered Staake and Ruane to castrate and kill the singer and his bodyguard.
Justin Bieber shot to fame at the age of 15 with the release of the seven-track 'My World' in 2009. He is the first artist to have all the songs of a debut album feature on the Billboard Hot 100. His album 'My World 2.0' was released in 2010 and was certified platinum in the United States. His single "Baby" became a huge hit worldwide. He then release the album 'Under the Mistletoe' in 2011, followed by another album 'Believe' in 2012. He has received many American Music Awards and was nominated to the Grammys.
With huge fan following around the globe and 15 million albums being sold so far, Forbes magazine named him the third most powerful celebrity in the world in 2012.