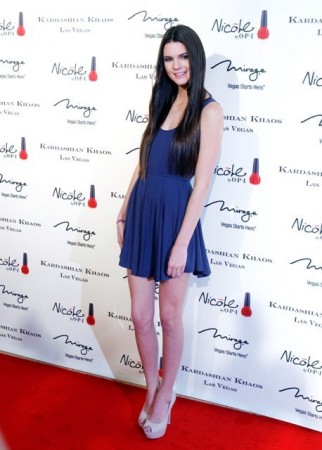 Playboy magazine is reportedly interested in roping in Kendall Jenner for a photoshoot and is even thinking of dangling a huge centrefold offer to lure the teenager.
But it is too soon to say if Kendall will take up the offer, as her dad, Bruce Jenner, is not too happy with the prospect of his daughter being featured in the magazine, Celeb Dirty Laundry reported.
Although both Bruce and Kris defended Kendall when she exposed a nipple on Instagram and even went topless, posing for the magazine is where Bruce draws the line, according to the website.
In a recent interview with the Huffington Post, Kris defended her daughter saying: "She has like, the perfect body, especially one that wants to be in the modeling business. I don't know, I got a lot of curves and I couldn't pull that off. But she always looks remarkable."
The Playboy rumors have been doing the rounds since last November when The Hollywood Gossip reported that Kendall will pose with Kim and Khloe Kardashian on the magazine.
Interestingly, Bruce's objections have not dampened his estranged wife Kris' dream of appearing on Playboy.
"Kris would be absolutely thrilled if Playboy asked her to appear in the magazine. She would have no qualms whatsoever showing off her fabulous fit body. She believes women of ALL ages should have pride in themselves and in their bodies," a friend of the Kardashian family told HollywoodLife.
The source added that although her daughters tease her for showing off skin, they are in fact proud of their mother.
But early this year, Kris put to rest her Playboy dreams saying that no one would want to see her without her clothes on, and therefore she would never pose nude for the magazine.
"Oh my God, no! I don't think anyone wants to see me without any clothes on."
"The older you get, the harder it is. I love to work out and love to feel like I'm in shape... Last summer I posted those bikini photos because I thought it was so inspirational for someone in their fifties to have some motivation and say 'wow' anybody can put a bathing-suit on," said Kris when she appeared on KIIS FM's Kyle and Jackie O Show in April, according to Mail Online.