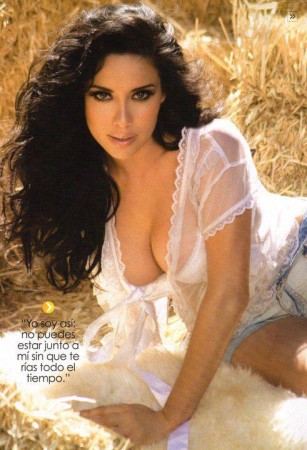 Augey Abrego, a Mexican Playboy model, is putting her breasts to use for a greater cause. The 36-year-old model is reportedly creating masterpieces by smearing her breasts with paint and then pressing them down on to the canvas to make interesting art.
Daily Star reported that Abrego is planning to sell these unique designs at a charity auction to raise money for breast cancer patients in a unique "Painted in Your Health Campaign".
Set to go under the hammer in October at the National Auditorium in Mexico City, prospective buyers are invited to attend the auction for a fighting chance at owing a Playboy model memorabilia, while also helping the cause.
However, one might already have a fight cut out with one dedicated fan of the Playboy model already putting down a reserve bid for one of the breast paintings.
"I think the paintings are great and for a really good cause," said Carlos Cruz. "Also, being a follower of Sugey it'll be nice having a reminder of her every time I look at my wall."
The video "Sugey Abrego en Playboy México | Backstage" shows Abrego at a Playboy photoshoot:
The Playboy model is one among the many other Mexican women promoting the "Painted in Your Health" campaign, which aims to raise awareness about breast cancer and raise money for patients suffering from the fatal disease.
All women involved in "Painted in Your Health" use their own breasts as paintbrushes to create the distinctly unique works of art.
Painting with breasts for the sake of charity may seem like a weird new concept, but in recent times, people have started becoming more and more uninhibited about nudity and what they are willing to do for a good cause.
For example, in August 2013, Adult Satellite channel Paradise TV had featured a breast-squeezing booth for their "Erotica Will Save the World" campaign, where adult subscribers were invited to squeeze the breasts of one of the entertainers in exchange for donating money to charity.
In 2011, a Chicago strip club Admiral Theater, offered free lap dances to customers who donate toys, as part of their "Lap Dances for the Needy" event.