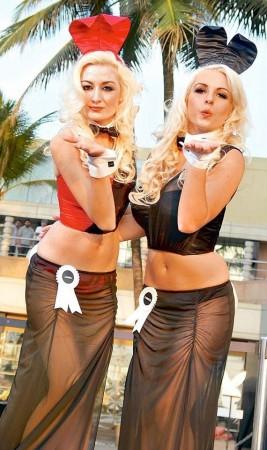 Playboy Club has finally unveiled its new customized bunny costume in India during a press conference on Wednesday. For the first time, the traditional "bunny suit" has been transformed to suit Indian tastes.
Bunnies at the club are usually dressed in suits, which are inspired by the tuxedo-wearing Playboy rabbit mascot. The costume consists of a corset, bunny ears, a collar, cuffs and a fluffy rabbit tail.
Bunny costumes for India get major tweaks. The trademark bunny ears, collar, cuffs and rabbit tail will remain the same, but the corset has an allusion of a sari and is paired with a translucent full-length skirt in black.
Zeenat Sanghavi, fashion consultant to PB Lifestyle, told The Times of India that waitresses at the club in India will wear long drapes of chiffon that have been added to the original satin corset costume.
"We had to design the costume for the Indian market to not offend sensibilities. It's chic and conservative," she told TOI.
The new Indian bunny costume is designed by US-based designer Mohini Tadikonda.
"My biggest challenge fell below the waist. At first, I wasn't sure how to work around the hip exposure that is iconic to the American Bunny costume. The upper portion of the bustier was not an issue and I was able to leave that untouched. I knew that the hip had to be covered, so I developed concepts that addressed the questionable area while still allowing an illusion of exposure," Tadikonda told TOI.
The first Indian Playboy club was scheduled to open by mid-December in Goa but its unveiling is delayed to early next year. The 22,000-square-foot club will be set up in North Goa's Candolim beach.