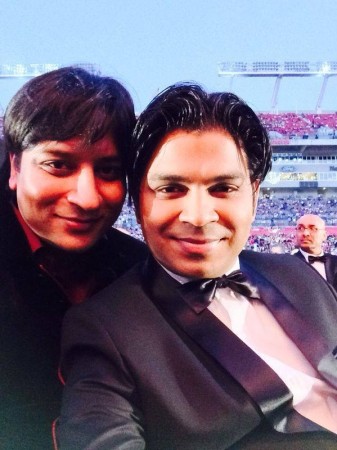 Playback singer Ankit Tiwari of "Aashiqui 2" fame has reportedly been arrested on alleged rape charges.
The 24-year-old singer and his brother Ankur Tiwari were held on Thursday morning after a woman reportedly lodged a complaint with the Versova police. A report in Deccan Chronicle states that the victim is Ankit Tiwari's girlfriend, whom he assured to marry, but failed to keep up his promise and decided not to wed her. His brother has reportedly been arrested on charges of threatening the girl.
A Mid-day report, quoting a source, said, "The 28-year old victim is not from the film industry. She had come to Mumbai on a holiday and was staying with her sister who lives in Versova. The singer-musician met her through a common friend and the two have been in touch with each other. The two brothers used to visit the house frequently."
It is being alleged that Ankit and his brother visited the victim's house late on Wednesday night. Ankit allegedly raped the girl and his brother reportedly threatened her with a knife and warned her not to reveal the incident to anyone.
Senior P.I.Bordke, Versova police station, has confirmed the arrest to Deccan Chronicle. The singer has been held under the Indian Penal code sections- 376 (Punishment for Rape), 493 (cohabitation caused by a man deceitful inducing a belief of lawful marriage), 417 (Punishment for cheating) and 506 (Punishment for criminal intimidation), the daily stated.
Meanwhile, Ankit has denied the charges against him. "I am being framed by the girl. All the charges by the woman are false and baseless," the singer was quoted as saying by Mid-Day.
His arrest has come just a few days after another bollywood actor was held on rape charges. On 25 April, actor Inder Kumar was arrested for allegedly raping and abusing an aspiring actress. He has been sent to judicial custody till 13 May.
(Ed:AJ)