When you invest in a new game, it becomes yours forever. But what good is it if you cannot take it up one more time with the kind of enthusiasm you had when you first brought it home?
With 2015 just starting off, a few game releases are just days away from us. This is the perfect opportunity to pick up one of the several games from your collection of classics and give it yet another go. Not only is that a good time killer, but also the opportunity to go about a game in an entirely different way.
If you make a personal list of the best games out there, you shouldn't be amazed if you find a few of them with great replay value. Sure, not all of them can offer you the thrill of playing it again and again (play multiplayer, then), but few of them are there whose price tags are successfully justified every time you repeat it.
Believe it or not, 2014 also had a few titles to offer that are replayable time and again. And we take this opportunity to talk about a few of them that thrilled us more than once, and will continue doing so for years to come.
Far Cry 4
Leave aside the entire scenic location of Kyrat with the Himalayas in the backdrop, and concentrate on the gameplay aspect of Far Cry 4. And it doesn't take a genius to tell you that the game screamed replay value from the moment it was unleashed on to us. We aren't even talking about the Karma points that you get if you perform a random act of kindness, since the story itself has such replay value to it. The Far Cry series has been, by far, Ubisoft's comfort zone. It's as if this one series gives the devs complete authority on adding whatever they feel necessary. Also, the combat sequence in the game makes us go back to it time and again. Plus, we love riding the digital Hortons.
Middle Earth: Shadow of Mordor
It was around midnight when we started playing Shadow of Mordor, and someone in the background, with the most cryptic voice of all, said "Once you enter Shadow of Mordor, you can never get out." While there's nothing presumably evil in that, but the cryptic voice was right. Shadow of Moroder has now successfully replaced the concepts of breakfast, lunch and dinner in our lives with how to terrorize folks in the game. For example, the orcs. Plus, it has this weird combination of Assassin's Creed and Hitman built into it that makes us come back to it every time we feel like playing something worthwhile. Also, polished graphics, brilliant frame rates and impressive combat help a lot.
Diablo III: Reaper of Souls
We have been treated to the Diablo series since we were growing up. And yet it seems like only yesterday when I received my first Diablo game on my birthday. The next thing that followed was the hours spent, alongside most of the teen-angst filled years. Fast forward to 2014, we are still stuck to Diablo, but this time with better graphics and gameplay value, while retaining the replayability of the same. Reaper of Souls takes is based on the gameplay that's been mastered by the likes of Baldurs Gate and even adds an entire new Adventure mode that unlocks after the end of the campaign. If this doesn't have major replay value in itself, we don't know what does.
Grand Theft Auto 5
Here comes the grand daddy of all the replayable games out there. Everyone has their preference of GTAs and ours has to be Vice City for the kind of replay value we managed to get out of it. In the end, though, it was nothing about following the story and more of creating mayhem for the police and nuisance for passer bys. And as you might expect, the newest one in the mix, GTA 5, delivers on, more or less, the same lines. But add to it better gameplay mechanics, better combat mechanicsm, more playable characters, the biggest open world yet and, of course, all the things you can do inside the world.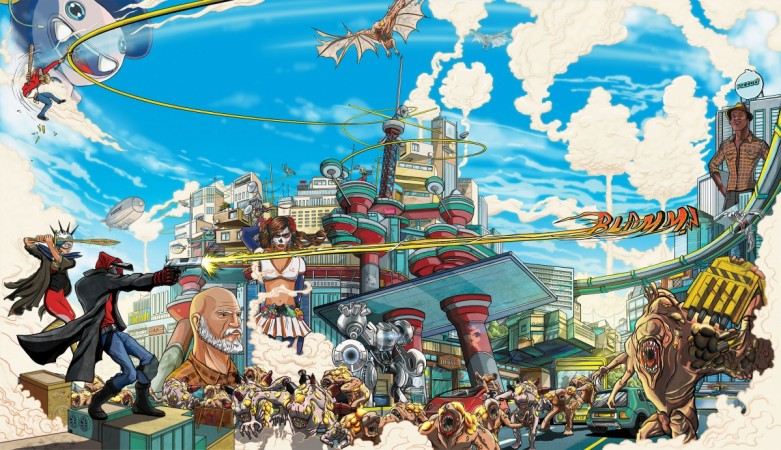 Sunset Overdrive
Call us repetitive, but this one has made into all the lists we have created so far (barring the worst of 2014). Sunset Overdrive is absolutely brilliant with its overall movement and gameplay mechanics. Not to mention the concept of extreme gore while keeping the cartoon side of it alive. You aren't dealing with zombies anymore but mutated folks of Sunset City after ingesting a chemically enhanced drink. There's no such thing called boring when you get into the game. And that's due to the impressive movement mechanics that requires you never to touch the ground. Simple: You fight from the ground, you get massacred.